Meets its suppliers and vendors to expand the base
Visits their manufacturing lines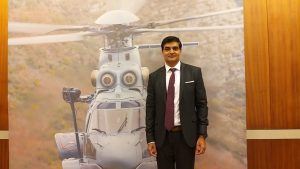 By Sangeeta Saxena
New Delhi. 24 October 2019. "It has become much easier to do business in India in the last few years. The industry has been invited to give its comments on the new DPP (Defence procurement procedure) or the new offset policy or even the strategic partnership model. For Airbus, India is not just a large, fast-growing market for aerospace products and services but is a strategic resource hub for emerging technologies, world-class talent and research and development . It is just the right time to do match footsteps and march ahead," said Ashish Saraf President, Airbus Helicopters India ,in an exclusive interview to Aviation & Defence Universe (ADU) recently.
Airbus is in discussions with CRPF and ITBP and are educating them on use of helicopters for HEMS. The European major is hopeful that one or two of the para military opportunities will materialise by end of 2020. " And that will set the trend. We are also in discussions with state police forces. But the most established and growing market for Airbus is the civil one which plays a major role in creating a connectivity in remote parts of India. Civil need in India is good and growing by 7-10 helicopters a year. We could definitely do with a lot more. We are happy that states are starting to create their infrastructure like in Uttarakhand. Fifty one helipads is the plan and even if half the figure is achieved it will enable the state to operate for connectivity and disaster relief operations. We are also focussing on the North eastern states of India where helicopter is an important mode of communication ," he added.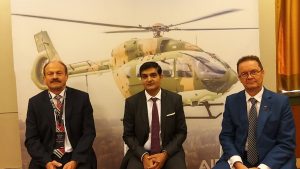 Ashish Saraf was accompanied by Martin Schuebel, Executive Vice President–Procurement, Airbus Helicopters, who was in the city to attend an Airbus Suppliers Conference at India Habitat Centre. "Today we are gathering global and Indian suppliers to make them understand Indian customisation of our helicopters and understanding their capability of manufacturing. We will comply with Make in India and 40% indigenisation which we have to achieve. We are comfortable with it and will achieve it. Here we give them an outline which means introducing them to opportunity, processes of Airbus and high quality of standards we maintain on manufacturing, quality checks and certification. Standards are high on safety, quality, corrosion and low on weight ," explained Martin.
Around 70 suppliers from all over India took part in this conference recently held in Delhi. "We explain our expectations. We explain the rules and processes etc. And then we get into face-to-face business meetings to agree on further steps and exchange questions, etc, and move forward jointly. Make in India is at the front and centre of Airbus' business strategy in the country, and embedding local businesses in the company's global supply chain is one of its approach pillars" he said.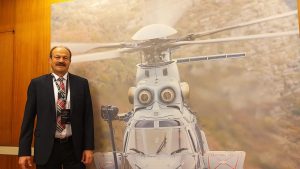 "Collaborating with suppliers, Airbus conducts training to keep the workforce engaged in its projects. Intensive training and mentoring ensure workers' skills are up to date. The supply base in India is highly appreciative of how Airbus cooperates with the companies, helping them grow and raise their position in the value chain. Airbus is not trainingindividuals but chooses qualified companies which train their employees . We focus on process robustness. The consistency comes no matter if people keep changing and this helps in sustainability, " Schuebel added.
"We have a very good knowledge of Indian market and have selected seventy companies manufacturing, repair and maintenance capabilities. As Airbus we have about fifty suppliers already existing in India. As a group over 600MillionUSD business is being done by the company in India. Every Airbus plane has an Indian part in it. Out of the complete list of MSMEs and large corporations half would be MSMEs. Airbus has an aim of generation of jobs and market. Helicopter production is not mass market. High tech solutions are available, helipads are in plenty ,we are the market leader and we want to be Indian industry's partner of choice," Saraf said.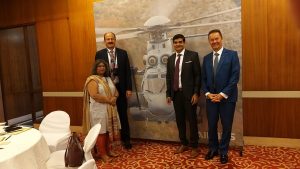 Martin also informed that in addition to New Delhi they will be visiting Bangalore, Goa and Mumbai to see first hand the factories of suppliers and to identify Indian companies we could involve in manufacturing of Naval Utility Helicopter. This is a Discovery Tour as he calls it and promises to be an enlightening one which will help them understand their suppliers better.
"We have eleven to twelve companies identified. NUH is an Indian product and we will definitely establish in India facility to support design. Knowledge will have to be there and we will design, manufacture and give mid life upgrades like we do in Brazil. Our strength is basically to offer highly customised helicopter and we want to create long term partnerships. Final Assembly Line is currently targeted with Mahindra and idea is to continue with them. We will use the facility for major checks and inspections," Ashish added.
He explained that the primary drivers are VIP, heli-tourism and state government requirements and Airbus is also looking at potential growth coming from HEMS (Helicopter Emergency Medical Services), urban air mobility as well as regional connectivity scheme of the Ministry of Civil Aviation.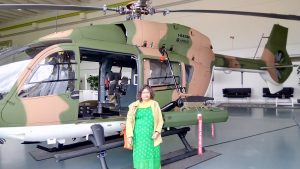 Saraf said, " We are actively involved in discussions to ensure that the HEMS policy be put in place and should be integrated with health and insurance providers which will create more jobs in the country and save a lot of lives. 27 customers own and operate our helicopters. We have about 250 helicopters and with addition of 7 to 10 choppers in the region which means India, Nepal, Bangladesh and other complementary markets we are looking at a steady growth of 3-4 per cent."
For the world's largest civil helicopter manufacturer for civil and parapublic rotorcraft, Airbus Helicopters was the first foreign original equipment manufacturer (OEM) to set up a customer centre dedicated to the Indian market. With presence in key cities across the country, the company has been leading the domestic civil and parapublic helicopter market with over half of the new registered deliveries since 2010.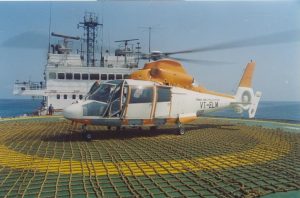 On the military side, the company has a rich history of industrial collaboration with the Indian industry. Airbus Helicopters signed an initial license agreement with Hindustan Aeronautics Limited (HAL) in 1962 allowing the latter to manufacture the Alouette III in India. In 1970, this agreement was expanded to include the production under license of the Lama helicopter. In India, these rotorcraft are known as the Chetak and Cheetah, respectively, with HAL producing more than 600 of them.
Airbus Helicopters has a long-standing relationship of being a connectivity partner to India's mainland and geographically dispersed areas in the mountainous and watery terrains. It is patiently waiting for the Pawan Hans disinvestment to finish and hopes once it is done with and the next phase of expansion starts with the new owners it will be a surge ahead in the already growing market. Till then it will be a watch and wait with hopes always being high.