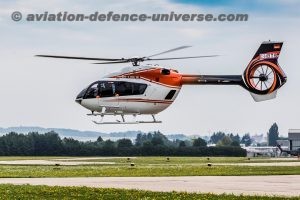 São Paulo. 30 October 2018. Airbus Helicopters' Brazilian customer centre, Helibras has just delivered the world's first ACH145 Line to the Brazilian company Bodepan Empreendimentos Agropecuários e Imobiliários. This is the fourth Airbus aircraft acquired over the last 26 years by Bodepan, which has already operated several models, including the EC135.
With more than 220 aircraft operating worldwide, the H145 has consolidated worldwide and is strongly reaching the Brazilian market with a proposal of comfort, technology and versatility. "Inquiries about the aircraft have been growing, especially after the last LABACE, when we presented the first H145 in Brazil. This helicopter is the best biturbine in its category", says Jean-Luc Alfonsi, Helibras Vice-President of Business and Services.
"We are very pleased with the acquisition of this new model in terms of performance, space and design. The ACH145 will enable us to make our journeys more comfortable and carrying more passengers. As operators since 1992, we have full confidence in the brand", states Mr. Odílio Bergamini.
The ACH145 Line, previously known as ACH Stylence, features increased ergonomic comfort, acoustic insulation and innovative design. Its sliding doors provide easy  passenger access and its spacious cabin allows for a variety of internal configurations. The luxurious interior of the delivered aircraft features 9 or 10 seats in perforated leather in tonal harmony with the carpets, special painting in the cabin and state-of-the-art digitally-controlled air conditioning.
In addition to the shrouded tail rotor (Fenestron) and new engines (Arriel 2E), one of the big advances compared to the previous version of the aircraft (EC145) is the new concept of man/machine interface optimized through the Helionix™ digital avionics package, 4-axis autopilot linked to the Full Authority Digital Engine Control (FADEC), which significantly reduces the crew's workload.