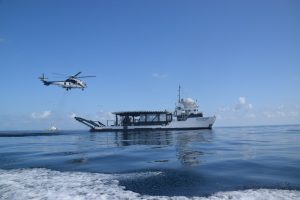 Texas. 12 August 2020. Recently an Airbus H225 helicopter brought NASA astronauts Bob Behnken and Doug Hurley back to dry land following the splashdown of the SpaceX Crew Dragon capsule in the Gulf of Mexico, after an 18-hour flight from the International Space Station. Longstanding Airbus Helicopters customer Air Center Helicopters, Inc. (ACHI), headquartered in Texas, operated the aircraft.
Two of ACHI's H225 helicopters were prepped and ready to assist in the crew and cargo transport from the main recovery ship back to Pensacola, Florida.
"Air Center Helicopters is proud to be joined with the SpaceX and NASA teams assisting in the recovery of astronauts in the first water landing since 1975," said Rod Tinney, CEO of Air Center Helicopters, Inc. "We look forward to flying our H225s to support SpaceX with all their rotary-wing needs and to playing a critical role in returning human spaceflight to the United States. This success comes from a culmination of great teamwork between three partners and ended in a flawless recovery."
Airbus' H225: A reference in its field
ACHI is now the largest civil operator of H225 aircraft, with a total of 20 H225s in its fleet, along with two AS332 Super Pumas and four H125s. Tinney and his teams have set up a multitude of critical operations with the H225 and Super Puma aircraft, including PR/CASEVAC missions overseas, shipboard vertical replenishment (VERTREP) missions with the U.S. Navy, as well as firefighting with an upcoming revamped configuration.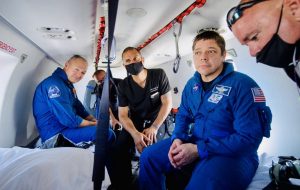 The H225 is the latest version in Airbus' proven Super Puma family, which has accumulated more than 5.8 million flight hours for the more than 1,000 aircraft delivered worldwide. It's the choice of both commercial operators and governmental agencies for its long range and all-weather search and rescue (SAR) capabilities, and its versatility allows it to be always ready for the most rigorous aerial work, firefighting, passenger transport, law enforcement, and utility missions. As a reference in its field, the H225's autopilot provides precision, stability, flight envelope protection and pilot assistance.
In addition to the vital role the Airbus H225 played in the unprecedented NASA and SpaceX Crew Dragon mission, the company also continues to support the United States space program through other platforms, including the recent contract of three H135 helicopters for NASA's Kennedy Space Center.
The H135s will be operated for a variety of missions, including security during rocket launches, emergency medical services and qualified personnel transport. Two of the helicopters are scheduled for delivery later this year, with a third planned for early 2021.