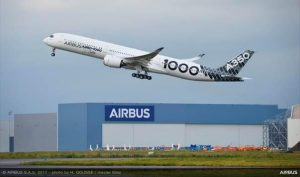 Toulouse. 12th May 2017 . The A350-1000 completed successfully its first and unique "Early Long Flight" with 310 passengers on board, including 10 Airbus Flight Test crew members and 13 Virgin Atlantic cabin crew. Test aircraft MSN065 took off from and landed in Toulouse on May 11th after a 12 hours flight.
During the long-haul flight the passengers, comprising Airbus employees and cabin crew personnel from Virgin Atlantic Airways – one of the 12 A350-1000 customers – were first to experience the Xtra wide comfort of the A350-1000. The early passengers were invited to try out and test the cabin systems, including air conditioning, lighting, acoustics, in-flight entertainment (IFE), galleys, electrics, washrooms and water waste systems.
Though not part of the technical certification programme, the Early Long Flight allows Airbus to assess cabin environment and systems in-flight and optimise cabin procedures to ensure full maturity at Entry Into Service for its customers.
The intensive A350-1000 certification testing is progressing well and on track to reach Type Certification followed by Entry Into Service in second half of 2017.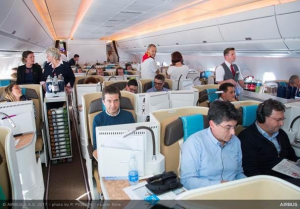 The A350-1000 is the latest member of the Airbus leading widebody family, showing high level of commonality with the A350-900 with 95% common systems part numbers and Same Type Rating. As well as having a longer fuselage to accommodate 40 more passengers than the A350-900, the A350-1000 also features a modified wing trailing-edge, new six-wheel main landing gears and more powerful Rolls-Royce Trent XWB-97 engines. The A350-1000 embodies all of the fuel efficiency and 'Airspace' cabin comfort of the original A350-900 – but with extra size perfectly tailored for our customers on some of their busiest long-haul routes. To date 12 customers from five continents have placed orders for a total of 211 A350-1000s.