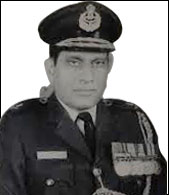 Air Marshal (Dr) RC Bajpai was commissioned in the Air Force in the year 1960. After more than 36 years of distinguished service, he superannuated in the 1996 in the rank of Air Marshal as Air Officer Commanding-in-Chief of maintenance command.
While in service, he obtained M Tech. in Radar Technology and Ph. D. in Electronic Warfare, both from IIT Delhi. He is also a graduate of National Defence College New Delhi and has passed Advance Diploma in Russian language. He has been trained in USA and Italy on Electronic Warfare.
As a Technical Officer, he was responsible for the planning, installation, maintenance, repair and procurement of technical equipment, both within India, and from abroad. Some important appointments held by him are-
a. Chief Program Director AWACS (Airborne warning and control system) programme.
b. Founder Member of Electronic Intelligence System in the Air Force.
c. A member of high powered committee headed by Late Dr Kalam, then SA to RM and later on as president of India to investigate the Aircraft accidents.
He has been an ardent supporter of  indigenization. He developed Phased array for radar as a part of his M Tech programme, He saved foreign exchange worth crores of rupees through indigenous efforts.
He was awarded PVSM (Param Vishishth Seva Medal) and AVSM (Ati Vishishth Seva Medal) by the President of India for his meritorious service. He was awarded Vishisht Vidyarthi Samman by Kanpur University in the year 2004.
After retirement, he was advisor to UPSC. He has also been teaching as a guest faculty in an Engineering College. He is associated with a large number of organizations for the uplift of weaker sections of the society. Presently, he is National President of Forum for Awareness of National Security. He provides counseling and help to central services aspirants for their UPSC interviews as Chairman of mock interview boards.
During his service career, he used to adopt nearby villages to his place of posting and help the villagers with counseling and other material assistance. While commanding Air Force Station, Kanpur, he started Industrial Training Institute (ITI) recognized by Government of India  and managed by Air Force. He is a widely  traveled person. Some of the countries visited by him are USA,UK, Italy,  France, Holland, Russia etc.