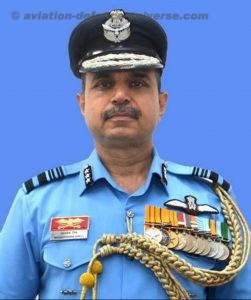 New Delhi. 01 November 2019. Air Marshal Manavendra Singh, AVSM VrC VSM, took over as Director General Inspection and Safety, Air Headquarters RK Puram on 01 Nov 2019.
The Air Marshal was commissioned in the flying branch of Indian Air Force on 29 Dec 1982 as a Helicopter pilot. In a distinguished career spanning nearly thirty-seven years, the Air Officer has flown a wide variety of helicopters and trainer aircraft. He has over 6600 hours of flying in various challenging sectors like the Siachen, the Northeast, Uttarakhand, the Western desert and the Democratic Republic of Congo. He is a Qualified Flying Instructor with vast instructional experience.
During his career, the Air Officer has held numerous important appointments. He was Commanding Officer of an Operational Helicopter Unit and later on became Station Commander of a frontline Helicopter Base. He was Asst Chief of Integrated Defence Staff (Joint Operations) at HQ Integrated Defence Staff, Senior Officer-in-Charge Administration at HQ Eastern Air Command and Senior Air and Administration Staff Officer at HQ Maintenance Command. Prior to his present appointment, he was Senior Air Staff Officer, Southern Air Command. He is an alumnus of Defence Services Staff College Wellington, and Army War College, Mhow.
He is the recipient of Presidential Awards of Ati Vishisht Seva Medal, Vir Chakra and Vishisht Seva Medal.
He is married to Mrs Ambika Singh and they are blessed with two sons.