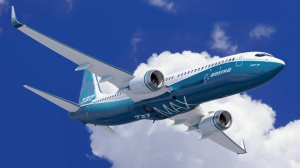 LOS ANGELES, California. 18 April 2017 . Air Lease Corporation announced a long term lease placement of two new Boeing 737 MAX 8 aircraft with MIAT Mongolian Airlines. The aircraft are scheduled to deliver from ALC's order book with Boeing in late 2019 and early 2020.
"We are very pleased to announce these new 737 MAX 8 lease placements with MIAT. These aircraft are key additions to MIAT's fleet as they continue to expand their route network in the region," said Jie Chen, Air Lease Corporation's Executive Vice President and Managing Director, Asia.
"These two new 737 MAX 8 aircraft will help serve our mission to connect Mongolia with the rest of the world while increasing the quality, reliability and efficiency of our fleet operations," said Tamir Tumurbaatar, President and Chief Executive Officer of MIAT Mongolian Airlines.