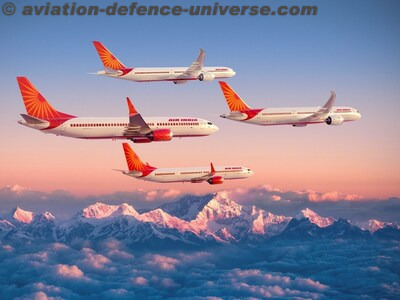 Orders 190 737 MAXs, including 737-8s and 737-10s, with options for 50 more 
Plans to expand international routes with 20 787-9 Dreamliners and options for 20 more
777X customer with selection of 10 777-9s
Comprehensive agreement includes services to support Air India fleet for decades 
By Sangeeta Saxena
Bangalore. 14 February 2023. It was an order which made the world look up and even the US President Joe Biden could not refrain from reacting elatedly. And ofcourse it was the news of the day at Aero India 2023. Boeing and Air India today announced that the carrier has selected Boeing's family of fuel-efficient airplanes to expand its future fleet with plans to invest in 190 737 MAX, 20 787 Dreamliner and 10 777X airplanes.
US President Joe Biden , " The United States can and will lead the world in manufacturing. I am proud to announce today the purchase of over 200 American-made aircraft through a historic agreement between Air India and Boeing. This purchase will support over one million American jobs across 44 states, and many will not require a four-year college degree. This announcement also reflects the strength of the U.S.-India economic partnership. Together with Prime Minister Modi, I look forward to deepening our partnership even further as we continue to confront shared global challenges—creating a more secure and prosperous future for all of our citizens."
Indian Prime Minister Narendra Modi  expressed satisfaction at the deepening of the India-U.S. Comprehensive Global Strategic Partnership, which has resulted in robust growth in all domains. He welcomed the announcement of a landmark agreement between Air India and Boeing as a shining example of mutually beneficial cooperation that will help create new employment opportunities in both countries. Prime Minister invited Boeing and other U.S. companies to make use of the opportunities arising due to the expanding civil aviation sector in India.

The agreement between Boeing and Air India includes options for 50 additional 737 MAXs and 20 787-9s. When finalized, this will be the largest Boeing order in South Asia and a historic milestone in the aerospace company's nearly 90-year partnership with the carrier. The order will post to Boeing's Orders and Deliveries website when final.
"This acquisition of nearly 300, highly advanced Boeing jets is a core element of Vihaan.AI, the comprehensive transformation and growth strategy we are pursuing at Air India," said Campbell Wilson, CEO and MD, Air India. "These new airplanes will enable us to dramatically expand our network, both domestically and internationally, and will come with a completely new, world-class onboard product enabling passengers to travel in the highest levels of comfort and safety. With this order, we are delighted to take our long relationship with Boeing to a new level,"he added.
The 737-10, the largest airplane in the 737 MAX family, offers the best per-seat economics of any singleaisle commercial jet, seating 188 to 230 passengers, depending on configuration with a range of 3,100 nautical miles. Air India has benefited from the efficiency and flexibility of the 787 Dreamliner family with an existing fleet of 27 787-8s. The larger 787-9 will provide increased capacity, greater range and 25% better fuel efficiency compared to earlier generation jets.
"Air India's selection of Boeing's family of passenger jets shows their confidence in our products and services in the world's fastest growing aviation market, and their decision will support engineering and manufacturing jobs at Boeing factories in Washington state, South Carolina and across our supply base," said Stan Deal, president and CEO of Boeing Commercial Airplanes. "With the industry-leading fuel efficiency of the 737 MAX, 787 Dreamliner and 777X, Air India is well positioned to achieve its expansion plans and become a world-class global airline with an Indian heart."
The flagship 777-9 – the world's largest and most efficient twin-engine jet — will be the largest airplane in Air India's fleet, enabling it to fly passengers non-stop and in enhanced comfort to almost any long-haul destination. Unmatched in every aspect of performance, the 777X features a spacious cabin, new custom architecture and innovations from the 787. With new breakthroughs in aerodynamics and engines, the 777-9 will provide 10% lower fuel use and emissions and 10% lower operating costs than the competition.
Air India has also contracted with Boeing Global Services for lifecycle support services, including digital solutions, spare parts and landing gear exchange programs, pilot and maintenance technician training, aircraft modifications and other services. The 737 MAX will provide flexibility across Air India's domestic and international network while reducing fuel use and emissions by 20% compared to the airplanes it replaces. The 737-8, seating 162 to 210 passengers, depending on configuration, and with a range of 3,500 nautical miles, is the market's most versatile single-aisle airplane, capable of operating profitably on short- and medium-haul routes.
Air India which got privatised in 2022 is now under Tata Group's ownership. It only inherited a fleet of around 100 jets, most of them leased. So this deal with Boeing will enhance the numbers and also the routes. The American aerospace major has yet to release a timeline for production. The airline is driving the five year transformation roadmap under the aegis of Vihaan.AI where it plans to focus ont only on growing both its network and fleet but also on completely revamping customer proposition, improving reliability and on-time performance.