Boeing in partnership with five IITs across the country attracts 1281 participants from over 250 institutions
Demonstrates Boeing's commitment to developing a talent pool for India's growing aerospace ecosystem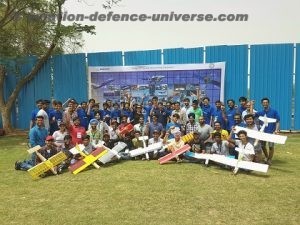 New Delhi, India, April 21 2017 – Boeing [NYSE: BA] in collaboration with the Indian Institute of Technology (IIT) today conducted the finals for the fifth annual Boeing-IIT National Aero-modelling Competition, which  saw participation from 1281 students from over 250 institutions nationwide. This year, the competition also saw many 'firsts' in its five year history, including participation from an international team from Iowa State University, U.S.A, as wells as a significant increase in participation from schools and female aero-modellers.
As an aerospace leader, Boeing has been investing in educating and inspiring the next generation of engineering talent in India. The aero-modelling competition aims to nurture, recognize and reward talented aerospace enthusiasts and innovators in India.
"Competitive aero-modelling requires multi-disciplinary skills, which is a great way to draw young minds to aerospace," said Pratyush Kumar, president, Boeing India. "With the Boeing-IIT National Aero-modelling Competition we want to inspire students to experience the joy of aviation and strive to become future aerospace engineers. We are excited to see the tremendous response that the competition has attracted over the past five years."
The zonal level rounds were held at IIT Kanpur, IIT Bombay, IIT Kharagpur and IIT Madras. The top three teams from each zonal round came to IIT Delhi to participate in the finals. As part of the lead up to the zonal rounds, Boeing sponsored aero-modelling workshops in various IITs covering various processes for the design and build of radio-controlled planes.
"We are delighted to be partnering with The Boeing Company in developing an eco-system for students from all engineering disciplines, so that they can channel their creative energy into reimagining avionics of the future." Prof. PVM Rao, head, Department of Design, Indian Institute of Technology Delhi.
Boeing is also actively engaging with academia and industry in India to inspire innovation. Evolved partnerships with academia and industry have resulted in establishment of two research centers – Aerospace Network Research Consortium (ANRC) at Bangalore and National Centre for Aerospace Innovation and Research (NCAIR) with IIT Bombay in Mumbai. NCAIR has spurred technology entrepreneurship in aerospace manufacturing for the industry and encouraged a startup culture in the country. Furthermore, Boeing has been able to promote cutting-edge research and technology in wireless networks, developing patents and several research papers at ANRC.