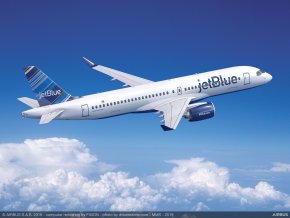 Prague. 25 April 2021. Recently Aero Vodochody delivered to its customer the 200th set of fixed leading edges for the Airbus A220. Serial production of 17-meter assembly was launched in 2014, Aero delivered the first leading edges to Bombardier Belfast a year later. The A220 program remains the largest in the Aero'saerostructures portfolio and has the greatest growth potential.
In 2020, Aero delivered 46 sets of leading edges, which is roughly the same as in 2019. "We are very proud to have already delivered 200 pairs of leading edges for the A220. Aero had been involved in the development of this aircraft and has been supplying to Belfast an equipped assembly ready for installation to the wing. The Airbus A220 is a state-of-the-art transport aircraft with very economical operation, for which there is a great demand on the market. After the current crisis, we expect an increase in production on this strategic programme," said Pavel Vašíček, Vice President Aerostructures of Aero Vodochody.
With the outbreak of the pandemic, there was a significant decline in customer orders for this program. In the end, however, the black scenario with a reduction in deliveries of around 50% did not become reality and deliveries in 2020 were comparable to the quantities delivered in the previous year 2019.
The A220 aircraft is designed for medium-haul routes for 100 to 150 passengers and is produced in two versions, the A220-100 and A220-300. Airbus now has orders for more than 600 of these aircraft, with more than 500 in the A220-300 version. Last year, Airbus also introduced a business jet variant of the aircraft called the ACJ TwoTwenty.
Aero signed a contract for the development and production of FLE for the Airbus A220 (formerly Bombardier CSeries) in 2009 with the Belgian company Sonaca. In 2016, Aero signed a production contract directly to Bombardier Belfast. In 2020, American company Spirit AeroSystems took over the Northern Ireland Bombardier site, including the A220 wings production.
A220 is one of five Aerostructures programs of Aero Vodochody Company. Aero also cooperates on the Embraer C-390 Millennium military transport aircraft as a producer of the rear fuselage, cargo ramp, all cabin doors and FLEs. Production of the equipped centre-wing box for the Alenia C-27J Spartan military transport aircraft also continues. In civil field, Aero is responsible for development and production of panels for the P2F conversion for STE Aerospace. Aero's customers also include the Czech aircraft manufacturer Aircraft Industries, for which Aero provides development and production of landing gear.