ATHENS, Greece, Feb. 13, 2020 – Pratt & Whitney, a division of United Technologies Corp. (NYSE: UTX), and AEGEAN Airlines celebrated delivery of the airline's first Airbus A320neo aircraft, leased through Aviation Capital Group (ACG) and equipped with Pratt & Whitney GTF™ engines.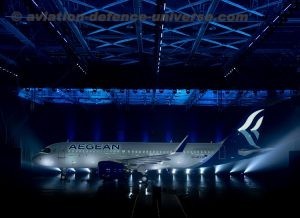 "We are very pleased to take delivery of our first GTF-powered A320neo aircraft, the first out of 46 in total that will be delivered within the next five years initiating our new era," said Eftichios Vassilakis, Chairman of AEGEAN Airlines. "The fuel savings and reduced emissions enabled by the GTF engines will enhance our competitiveness, and the ability to reach further destinations will benefit our passengers and Greek tourism overall."
AEGEAN Airlines, based in Athens, Greece, currently flies to 155 destinations in 44 countries. The airline selected the GTF engine for its order of up to 67 A320neo family aircraft in 2018. Pratt & Whitney will also provide AEGEAN Airlines with engine maintenance through a long-term EngineWise® Comprehensive service agreement. AEGEAN Airlines currently operates a fleet of 49 A320ceo family aircraft powered by the V2500® engine. The Athens-based airline's subsidiary company, Olympic Air, currently operates 12 PW100-powered regional turboprop aircraft.
"Pratt & Whitney powered AEGEAN Airlines' first turboprop aircraft upon its inception in 1999 and currently powers the airline's entire A320ceo fleet," said Rick Deurloo, chief commercial officer at Pratt & Whitney. "We are excited to continue our relationship as AEGEAN begins operating with the game-changing technology of the GTF engine."
Since entering into service in early 2016, the GTF engine has demonstrated its promised ability to reduce fuel burn by 16 percent, to reduce nitrogen oxide emissions by 50 percent compared to the regulatory standard, and to reduce the noise footprint by 75 percent.