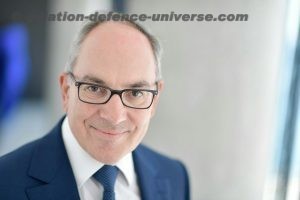 Paris. 23 October 2017. A small and tight-knit team to engage Naval Group in more proactive internationalisation: Alain Guillou is appointed as the Executive Vice President, International development. On proposal from Hervé Guillou, the Naval Group General Management Committee has approved the appointment of Alain Guillou as Naval Group Executive Vice President for International development.
His mission will be to boost the group internationalisation in terms of business development and human and industrial presence. Alain Guillou, who is 58, spent most of his career in positions with an operational dimension and linked to social-change management, industrial management and international cooperation. Boost Naval Group Transformation At a time when discussions on a possible industrial alliance with Fincantieri have been initiated and Naval Group's internationalisation now constitutes a strategic priority to counter the competition of new entrants, Hervé Guillou has chosen to form a small and tight-knit team to boost the development of the group.
As a reminder the executive Committee is made up of eight people sharing a common objective focused on operational excellence and international growth: • Development Department, Alain Guillou • Financial, Legal and Purchasing Department, Frank Le Rebeller • Corporate Secretary, Jean-Yves Battesti • International Trade Department, Philippe Sauvageot • Industry Division, Olivier de la Bourdonnaye • Programs Division, Pierre Legros • Services Division, Nathalie Smirnov • Australia Program.
Jean-Michel Billig Alain Guillou underlines that "The aim is to transform Naval Group into a profitable international group to offer to our customers ships and equipment able to ensure sovereignty and possessing technological and operational superiority, with a high degree of availability and maintainability and at a price that is competitive on the market. To succeed, we must bring together and mobilise all our energy, first and foremost that of the Naval Group teams but also that of the DGA (Direction Générale de l'Armement), French Navy and French government departments as well as that of our industrial partners".