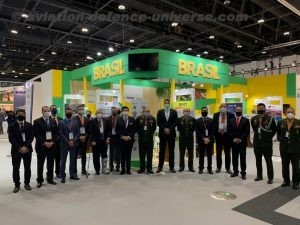 Abu Dhabi. 22 February 2021. The ABIMDE stand at the International Defense Exhibition and Conference (IDEX), in Abu Dhabi (United Arab Emirates) had a great deal of movement at the opening of the event, which took place last Sunday. In addition to the entity, BIDS (Industrial Base for Defense and Security), and a delegation of authorities formed by members of the Ministries of Defense and Foreign Affairs, of Apex-Brasil (Brazilian Promotion Agency) are present at the "PavilhãoBrasil" Export and Investment) and representatives of the Brazilian Armed Forces.
The delegation is made up of the Defense Products Secretary (SEPROD), Marcos Degaut, and was also attended by the Director of the Department of Commercial Promotion of the MD, Division General Luis Antônio Duizit Brito, and the head of the Defense Products Division ( DIPROD) by MRE, César Nascimento and Apex-Brasil Project Coordinator, Paulo Silva. The group was received by the president of ABIMDE, Dr. Roberto Gallo, and by the entity's project director, Paulo Albuquerque.
IDEX will take place at the Abu Dhabi National Exhibition Center (ADNEC) until next Thursday, 25th February. It is the first major face-to-face Defense event to be held since the beginning of the Coronavirus pandemic. "It is a milestone for the defense sector, as it is the record of a gradual return to activities," says Albuquerque.
The Event
IDEX 2021 will showcase the latest developments, technologies and innovations in the defense industry. In addition to supporting the development of the sector, the event establishes new relationships between large international companies. Atech, Avibras, Avionics, CBC, Condor, Embraer, Gespi, Kryptus, MacJee, M&K Logistics, Siatt and Taurus also participate in the exhibition.