The Brazil Pavilion will feature 22 companies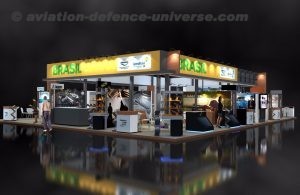 Greenwich, London. 12 September 2017. ABIMDE (Brazilian Defense and Security Industries Association), the Brazil Pavilion will feature 22 associated companies as well as a meeting room in a 300m² area situated at the N8-130 sector.
Coordinated by ABIMDE and supported by Apex-Brasil (Brazilian Trade and Investment Agency) and the Ministry of Defense, the presence of the Brazilian companies will be an opportunity for expanding international business. Markets of interest include countries of the European Union, Middle East, Africa and Asia. With that in mind, the Association has been scheduling visits to the Brazil Pavilion for official delegations and entourages of international entrepreneurs.
Below are the associated companies that will take part of DSEI and the main products and services to be presented at the fair:
– Adhara: systems, defense projects, and representation for defense and security products;
– Altave: surveillance and communication aerostats, and monitoring software;
– Atrasorb: CO2 absorbents for confined spaces such as submarines;
– Atech: Arkhe Family with solutions for command and control, built-in systems, cybersecurity, and training;
– CBC: military ammunition (short weapons, riffles and medium caliber);
– Condor: non-lethal technologies such as tear cartridges and grenades, impact ammunition, and electrical weapons;
– Consub: integration of surveillance, command and control systems, development of tactical control and weapon systems;
– Embraer: KC-390 military aircraft;
– Emgepron: large-caliber ammunition and military vessels;
– Fulstandig: transit services for companies taking part of events in Brazil and abroad, including customs services, freight forwarding and Brazilian Army clearance;
– Logsub: Defense consulting services;
– M&K: logistic support services, international representation, product development, international logistic transportation;
– Mac Jee: electrical and electronic component distribution in the military segment, and presentation of the 4X4 rocket launcher system Armadillo TA-2;
– Omnisys: air traffic control radar, satellite built-in equipment, electronic warfare, and control and tracking;
– Poly Defensor: PSI-PRO, non-lethal technology;
– SKM: development of Defense solutions;
– Simtech: commercial representation, marketing and consulting services for foreign and Brazilian companies;
– Smart Power: a holding that aggregates Safety Wall, the company responsible for the Ballistic Evaluation Mobile System; and Domus, a developer of temporary housing;
– Taurus: assorted weaponry;
– VMI: technologies for generating images through X-rays.