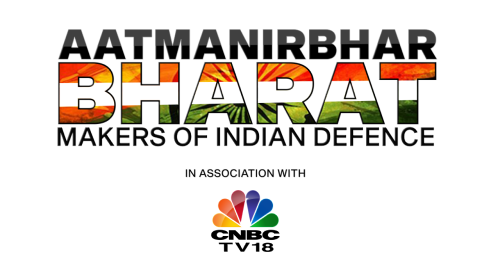 New Delhi. 25 October 2021. Season 2 of the Aatmanirbhar Bharat – Makers of Indian Defence television series, will be showcased on ET Now, starting January 2022.
As the Indian defence and aerospace sector steps forward to turn Prime Minister Modi's vision of a self-reliant India into reality, this television series is providing a platform to Indian players as well as international OEMs to showcase their stories, capabilities and future vision. Season 1 successfully featured the impactful and insightful stories of companies such as Lockheed Martin, Navantia, Naval Group, MKU Ltd, Lohia A&D, Walchand Nagar, Titagarh Wagons, SMPP and Exicom. Each of these companies have made a contribution towards the Indian growth story and the Prime Minister's Make in India campaign.
MKU Ltd., a global defence and homeland security company, is helping to empower and deliver confidence to heroes who stand in the line of duty with their innovative solutions and smart technologies. With a footprint in over 100 countries they have garnered the trust of over 230 forces.
Lockheed Martin has been extensively working with the Indian armed forces and key stakeholders to advance the strategic security and industrial capability of the country. For over 30 years the company has been a trusted partner to India's defence and aerospace industry accelerating its skilling, manufacturing and technical capabilities.
With a clear focus on Make in India, Titagarh Wagons has been delivering a long range of prestigious products to the Indian Defnce sector, and is constantly working towards building a world class brand in design and manufacture of comprehensive mobility solutions.
Navantia, fully committed with the Make in India philosophy, is positioned to assist the Indian Navy through a technology transfer program to achieve permanent design, construction and maintenance capabilities in India.
SMPP, a leader in development and production of innovative defence products, has a major presence in body armour as well as platforms.
Providing niche communication wireless infrastructure and services across land, sea and air, Exicom Technologies is a growing powerhouse in India's A&D self – reliance story. Exico offers robust on the move communication solutions for video, audio and data integration.
Walchandnagar Industries, an Indian company with a global presence and a high-end manufacturing capability has a strong presence in strategic sectors like Defence, Nuclear and Aerospace. With a legacy spanning 112 years, WIL has been a part of critical missions like Chandrayan 1 and Mangalyan.
The Naval Group's business in India is to support domestic shipyards to build 'Make in India' capacities and capabilities for construction of modern submarine and naval platforms by establishing a reliable ecosystem.
Lohia Group of companies, establishes India as a leading exporter of customised composite products to global OEM's.With an aim to take India's vision of Make in India and Skill India to the next level,
Each of these companies has made it's mark and contribution towards making India self-reliant in the A&D sector. Season 2 of the Aatmanirbhar Bharat series will again features known companies as well as some hidden gems in the Indian A&D sector. These companies with the backing of the government are making their contribution towards the "Make in India" vision of the Prime Minister.