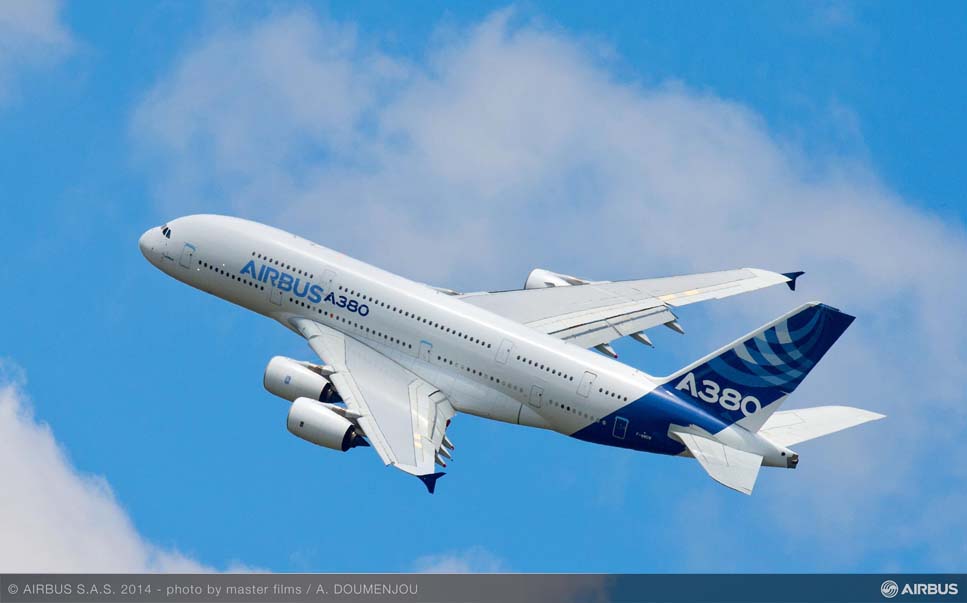 New Delhi. 27 April . Airbus's best showcase aircraft flying in which is an experience par excellence arguabely is A 380 which is celebrating the day it flew for the first time on this day in 2005. The Airbus A380 is a wide-body aircraft manufactured by Airbus. It is the world's largest passenger airliner. Airbus studies started in 1988 and the project was announced in 1990 to challenge the dominance of the Boeing 747 in the long haul market. The then-designated A3XX project was presented in 1994; Airbus launched the €9.5 billion ($10.7 billion) A380 programme on 19 December 2000. The first prototype was unveiled in Toulouse on 18 January 2005, with its first flight on 27 April 2005. Difficulties in electrical wiring caused a two-year delay and the development cost ballooned to €18 billion. It obtained its type certificate from the European Aviation Safety Agency (EASA) and the US Federal Aviation Administration (FAA) on 12 December 2006.
It was first delivered to Singapore Airlines on 15 October 2007 and entered service on 25 October. Production peaked at 30 per year in 2012 and 2014. However, Airbus concedes that its $25 billion investment for the aircraft cannot be recouped. On 14 February 2019, after Emirates reduced its last orders in favour of the A350 and the A330neo, Airbus announced that A380 production would end in 2021.
The full-length double-deck aircraft, sometimes nicknamed the superjumbo, has a typical seating capacity of 525, though it is certified for up to 853 passengers. It is powered by four Engine Alliance GP7200 or Rolls-Royce Trent 900 turbofans providing a range of 8,000 nmi (14,800 km). As of August 2020, Airbus has received 251 firm orders and delivered 246 aircraft; Emirates is the biggest A380 customer with 123 ordered, of which 118 have been delivered.