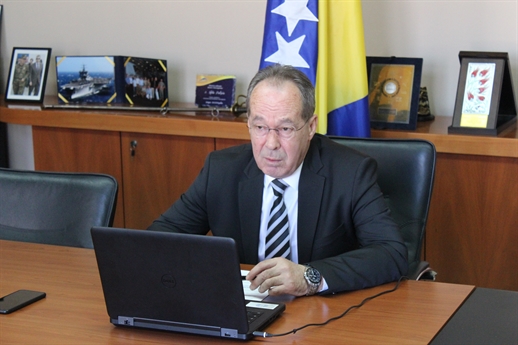 Sarajevo. 01 June 2022. At the invitation of the Minister of Defense of the Republic of Bulgaria Dragomir Zakov, the Minister of Defense of Bosnia and Herzegovina Sifet Podzic is attending the International Exhibition of Defense Equipment and Services "HEMUS 2022", held in Plovdiv, Bulgaria, from 1 to 4 June 2022.
As part of the visit to the exhibition "HEMUS 2022", a bilateral meeting of Minister Podzic with the Minister of Defense of the Republic of Bulgaria Dragomir Zakov is planned, as well as attendance at the International Scientific Conference on "Research, Technology and Innovation – Basis for Building New Defense Capabilities ".
The exhibition is being visited by numerous delegations from 68 countries, representatives of NATO and EU agencies, the European Defense Agency (EDA), the European Commission, domestic and international institutions, agencies and organizations, business representatives, as well as representatives of companies and commercial organizations.
"HEMUS" is considered to be the largest Bulgarian international defense and security exhibition of the purpose-built industry with more than 27 years of existence. It conducted to be a successful forum intended for expanding business in the defense sector, strengthening relations between partners of governmental and non-governmental organizations, and presenting innovative solutions for products and services, as well as the exchange of knowledge and experiences.