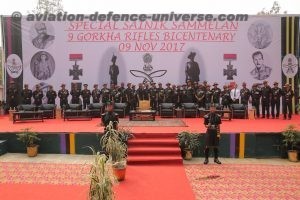 India & Nepal are proud of their Gorkha soldiers
New Delhi. 09 November 2017. 200 years of valour, sacrifice, bravery, honesty, courage, steadfastness and the sheer joy of soldiering on the sands of time. Indian Army is celebrating two centuries of Nine Gorkha Rifles and the nation the camaraderie and regimental bonds of brothers in arms that transcend national boundaries. It is a day for celebration in Nepal too.
Nepal and India are bound by a very special and unique relationship through the Gorkha soldiers who serve in the Indian Army. This relationship transcends their service careers and continues throughout their entire lives and even the lives of their loved ones in the form of pensions and other welfare services.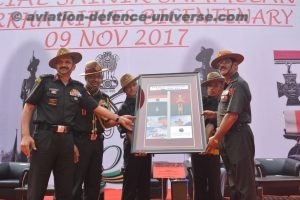 Approximately 90,000 ex-servicemen and widows draw pensions from 36 Pension Paying Camps conducted by the Defence Wing of the Indian Embassy in Nepal.  Contrary to popular belief that the British were the first ones to recruit Gorkhas, it was in fact Maharaja Ranjit Singh, who, impressed by the bravery and valour of these big hearted little men from the hills, raised a battalion of Gorkhas to serve in the Sikh Army. All soldiers serving in the Indian Army are still called 'Lahorey' in Nepal, i.e., the one who serves in Lahore.
There are about 32,000 brave citizens of Nepal who fight shoulder to shoulder with their Indian compatriots to protect the territory and sovereignty of India and constitute what is known as the Gorkha Brigade.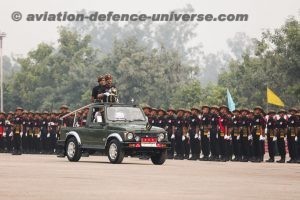 The Gorkha Brigade has seven regiments, viz, First, Third, Fourth, Fifth, Eighth, Ninth and the Eleventh Gorkha Rifles. The missing serials are those regiments which were allocated to the British Army, post-Independence. Each of these regiments is further organised into five or six battalions, which is a fully functional unit of the Indian Army. Thus 3/9 GR denotes the Third Battalion of the Ninth Gorkha Rifles, an exclusive nomenclature which has baffled many within and outside the armed forces community.
The First Battalion of the Ninth Gorkhas was raised by the British in 1817 as the 'Fatehgarh Levy'. The Regiment has earned laurels itself during its British and Indian history. The battalions have been awarded three Victoria Crosses, five Mahavir Chakras and seventeen Vir Chakras in the two centuries of their existence. Each battalion of the Regiment has also been awarded the Chief of Army Staff Citation and one or more Army Commander's Citation for exceptional services rendered, a unique distinction unparalleled in the Indian Army. More than 300 soldiers of the Regiment have laid down their lives Post – Independence in various wars, counter- terrorism and counter- insurgency operations.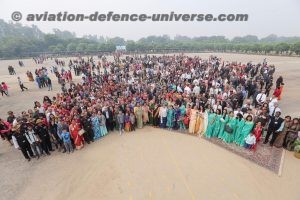 As a prelude to the Bicentenary Celebrations, a team of the First Battalion scaled Mount Stok Kangri (6153 meters) on 30 September 2016. The peak located in the Hemis National Park is the highest peak of the Stok Ranges in the Ladakh Region. The team was earlier flagged off from New Delhi by Colonel 9th Gorkha Rifles, Lt Gen AK Bhatt on 9th September 2016. This was followed by a Motorcycle Rally of the same battalion, flagged off by the Chief of Army Staff, General Bipin Rawat on the 30th of January 2017 from Delhi. The motorcyclists drove through the traditional recruiting areas of the Regiment in Western Nepal honouring many ex-servicemen en route. Their arrival in Pokhra in Nepal on the 4th of February coincided with a massive rally where almost 3,500 ex-servicemen and widows had gathered to celebrate the bicentenary of the Regiment. The event was attended by General Rajendra Chhetri, Chief of Army Staff, Nepal Army, Ranjit Rae, Ambassador of India to Nepal, and Lt General AK Bhatt, Colonel of the Regiment of Ninth Gorkhas.  India and Nepal share a unique tradition wherein their respective Chiefs of Army Staff are anointed as Honorary Generals of each other's forces.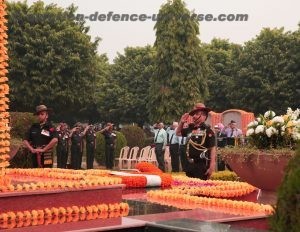 The celebration will culminate with 9 GR Bicentenary Celebrations and Reunion being held at the Regimental Centre of 3&9 GR at Varanasi from 08 November to 11 November 2017. More than 100 retired officers and more than 500 veteran soldiers of the Regiment from India and Nepal besides serving officers and men are a part of these celebrations.
The battle honours of the 9th Gorkha rifles make each of the soldier proud. Pre-Independence: Bharatpur, Sobraon, Afghanistan (1879–80) and  Punjab Frontier. World War I: La Bassee, Festubert, Armentieres, Givenchy, Neuve Chapelle, Aubers, Loos, France and Flanders, Tigris, Kut-al-Amara and Mesopotamia. World War II: Malaya (1941–42), Djebel El Meida, Djebel Garci, Ragoubet Souissi, North Africa (1940–43), Cassino I, Hangman's Hill, Tavoleto, San Marino, Italy (1943–45), Chindits 1944 and Burma (1942–45). Indo-Pak Conflict 1965: Phillora, Punjab 1965. Indo-Pak Conflict 1971: Kumarkhali, East Pakistan 1971, Jammu and Kashmir 1971, Dera Baba Nanak, Punjab 1971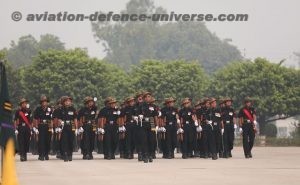 Major (later Lt. Colonel) George Campbell Wheeler, 2nd Battalion, 23 February 1917, River Tigris, Mesopotamia, Temp. Major Frank Gerald Blaker, Highland Light Infantry, attached to 3rd Battalion, 9 July 1944, Taunggyi, Burma (now Myanmar) and Rifleman Sher Bahadur Thapa, 1st Battalion, 18 September 1944, San Marino, Italy were the three  recipients of Victoria Cross from the 9GR.
1 Ashoka Chakra, 5 Param Vishist Seva Medals, 5 Maha Vir Chakras, 3 Kirti Chakras, 6 Ati Vishist Seva Medals, 17 Vir Chakras, 7 Shaurya Chakras , 13 Sena Medals and 14 Vishist Seva Medals also make the regiment proud.
As they say 'you can remove a Gorkha from soldiering but you can never remove the soldier from within a Gorkha'.