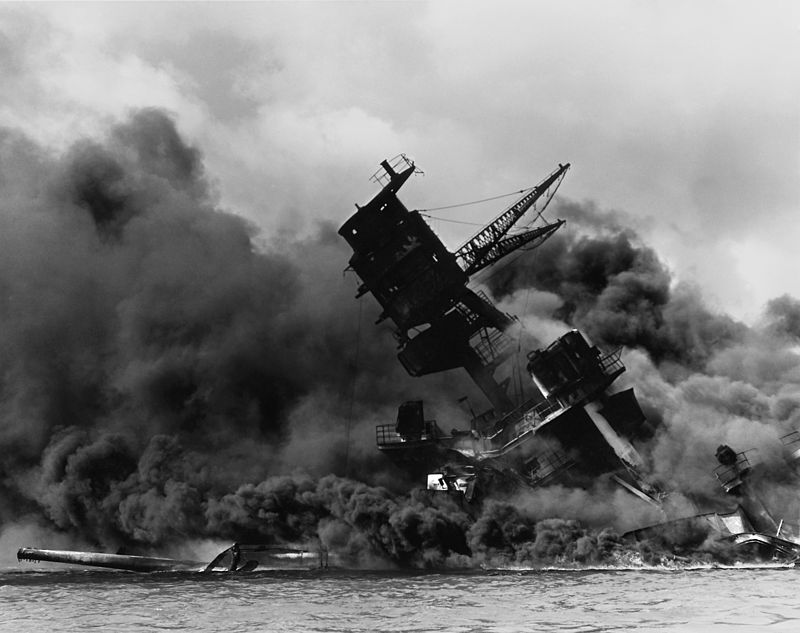 New Delhi. 07 December 2020. This was probably the most remembered vote in USA's political history. The single vote against Congress's declaration of war against Japan in World War II came from Representative Jeannette Rankin of Montana. "As a woman," she said, "I can't go to war, and I refuse to send anyone else." But on December 8, the US Congress approved Roosevelt's declaration of war on Japan for a day prior Japan had attacked the US Naval Base at Pearl Harbour in Hawaii. President Franklin Roosevelt called December 7, 1941, "a date which will live in infamy."
The Attack on Pearl Harbor was a surprise military strike by the Imperial Japanese Navy Air Service upon the United States (a neutral country at the time) against the naval base at Pearl Harbor in Honolulu, Territory of Hawaii, just before 08:00, on Sunday morning, December 7, 1941. Japan intended the attack as a preventive action to keep the United States Pacific Fleet from interfering with its planned military actions in Southeast Asia against overseas territories of the United Kingdom, the Netherlands, and the United States. Over the course of seven hours there were coordinated Japanese attacks on the U.S.-held Philippines, Guam, and Wake Island and on the British Empire in Malaya, Singapore, and Hong Kong.
The attack commenced at 7:48 a.m. Hawaiian Time (18:18 GMT). The base was attacked by Imperial Japanese aircraft (including fighters, level and dive bombers, and torpedo bombers) in two waves, launched from six aircraft carriers. Of the eight U.S. Navy battleships present, all were damaged and four sunk. All but USS Arizona were later raised, and six were returned to service and went on to fight in the war. The Japanese also sank or damaged three cruisers, three destroyers, an anti-aircraft training ship, and one minelayer. A total of 188 U.S. aircraft were destroyed; 2,403 Americans were killed and 1,178 others were wounded. Important base installations such as the power station, dry dock, shipyard, maintenance, and fuel and torpedo storage facilities, as well as the submarine piers and headquarters building (also home of the intelligence section) were not attacked. Japanese losses were light: 29 aircraft and five midget submarines lost, and 64 servicemen killed. Kazuo Sakamaki, the commanding officer of one of the submarines, was captured.
Because the attack happened without a declaration of war and without explicit warning, the attack on Pearl Harbor was later judged in the Tokyo Trials to be a war crime.
Pearl Harbor, Hawaii, is located near the center of the Pacific Ocean, roughly 2,000 miles from the U.S. mainland and about 4,000 miles from Japan. No one believed that the Japanese would start a war with an attack on the distant islands of Hawaii.
Additionally, American intelligence officials were confident that any Japanese attack would take place in one of the (relatively) nearby European colonies in the South Pacific: the Dutch East Indies, Singapore or Indochina.
Because American military leaders were not expecting an attack so close to home, the naval facilities at Pearl Harbor were relatively undefended. Almost the entire Pacific Fleet was moored around Ford Island in the harbor, and hundreds of airplanes were squeezed onto adjacent airfields and the Japanese found it an easy target.
Ships lost or damaged
Twenty-one ships were damaged or lost in the attack, of which all but three were repaired and returned to service.
Battleships
Arizona (Rear Admiral Isaac C. Kidd's flagship of Battleship Division One): hit by four armor-piercing bombs, exploded; total loss. 1,177 dead.
Oklahoma: hit by five torpedoes, capsized; total loss. 429 dead.
West Virginia: hit by two bombs, seven torpedoes, sunk; returned to service July 1944. 106 dead.
California: hit by two bombs, two torpedoes, sunk; returned to service January 1944. 100 dead.
Nevada: hit by six bombs, one torpedo, beached; returned to service October 1942. 60 dead.
Pennsylvania (Admiral Husband E. Kimmel's flagship of the United States Pacific Fleet):[120] in drydock with Cassin and Downes, hit by one bomb and debris from USS Cassin; remained in service. 9 dead.
Tennessee: hit by two bombs; returned to service February 1942. 5 dead.
Maryland: hit by two bombs; returned to service February 1942. 4 dead (including floatplane pilot shot down).
Ex-battleship (target/AA training ship)
Utah: hit by two torpedoes, capsized; total loss. 64 dead.
Cruisers
Helena: hit by one torpedo; returned to service January 1942. 20 dead.
Raleigh: hit by one torpedo; returned to service February 1942.
Honolulu: near miss, light damage; remained in service.
Destroyers
Cassin: in drydock with Downes and Pennsylvania, hit by one bomb, burned; returned to service February 1944.
Downes: in drydock with Cassin and Pennsylvania, caught fire from Cassin, burned; returned to service November 1943.
Helm: underway to West Loch, damaged by two near-miss bombs;[121] continued patrol; dry-docked January 15, 1942 and sailed January 20, 1942.
Shaw: hit by three bombs; returned to service June 1942.
Auxiliaries
Oglala (minelayer): damaged by torpedo hit on Helena, capsized; returned to service (as engine-repair ship) February 1944.
Vestal (repair ship): hit by two bombs, blast and fire from Arizona, beached; returned to service by August 1942.
Curtiss (seaplane tender): hit by one bomb, one crashed Japanese aircraft; returned to service January 1942. 19 dead.
Sotoyomo (harbor tug): damaged by explosion and fires in Shaw; sunk; returned to service August 1942.
YFD-2 (yard floating dock): damaged by 250 kg bombs; sunk; returned to service January 25, 1942 servicing Shaw.
After a systematic search for survivors, Captain Homer N. Wallin was ordered to lead a formal salvage operation. Around Pearl Harbor, divers from the Navy (shore and tenders), the Pearl Harbor Naval Shipyard, and civilian contractors (Pacific Bridge Company and others) began work on the ships that could be refloated. They patched holes, cleared debris, and pumped water out of ships. Navy divers worked inside the damaged ships. Within six months, five battleships and two cruisers were patched or refloated so they could be sent to shipyards in Pearl Harbor and on the mainland for extensive repair.
Intensive salvage operations continued for another year, a total of some 20,000 man-hours under water. Arizona and the target ship Utah were too heavily damaged for salvage and remain where they were sunk, with Arizona becoming a war memorial. Oklahoma, while successfully raised, was never repaired and capsized while under tow to the mainland in 1947. When feasible, armament and equipment was removed from vessels too damaged to repair and put to use aboard other craft.
History will always remember this hurried dispatch Admiral Husband Edward Kimmel, Commander in Chief of the United States Pacific Fleet, to all major navy commands and fleet units provided the first official word of the attack at the ill-prepared Pearl Harbor base. It said simply: AIR RAID ON PEARL HARBOR X THIS IS NOT DRILL.
And 79 years since the attack, the world is remembering the day which pulled US into the war and sowed the seeds of US's revenge on Japan which took nearly four years.
Content courtesy Library of Congress, WWII History & Wikipedia