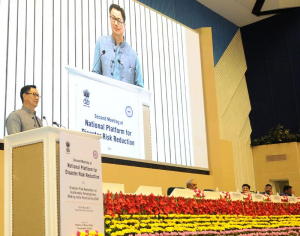 New Delhi. 17 May 2017. A two-day multi-stakeholders' second meeting of the National Platform for Disaster Risk Reduction concluded here today. The valedictory function was addressed by Union Minister of State (Independent Charge) of Power, Coal New & Renewable Energy and Mines, Piyush Goyal and Minister of State for Home Affairs, Kiren Rijiju. Union Home Secretary Rajiv Mehrishi, Members NDMA and over 1,000 delegates representing various stakeholders in the Disaster Management also attended.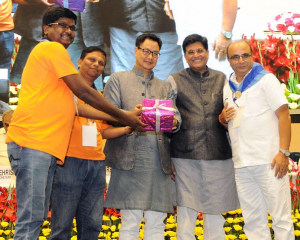 Speaking at the Valedictory Session, Piyush Goyal made an appeal to everyone to come together to fight against the disaster. He referred to the Prime Minister Shri Narendra Modi's 10 point agenda for drafting the roadmap leading to the reduction of disaster impact. He said that if we cannot prevent disaster, we must work for reducing the impact of disaster. We need to make investments in preparedness and risk reduction. He also quoted Union Home Minister Rajnath Singh for mentioning that if we spend one rupee in preparedness, we save ten rupees in post-disaster losses. He also emphasised that Disaster Management should not be seen in isolation. It has linkages with poverty and all development schemes of the Government. Poverty has direct impact on vulnerabilities, so we have to work simultaneously. He quoted Bejamin Franklin, "if we fail to prepare, we are preparing to fail".
Kiren Rijiju, who is also the Vice-Chairman of the NPDRR, reiterated the Prime Minister's 10 point agenda for drafting targeted and time bound action plan for making India resilient by 2030. He emphasized on investment in Research and Development and building partnerships with the universities and research Institutions.
On the occasion, the two Ministers gave away the prize to the winner of the national slogan contest on Disaster Risk Reduction with an appreciation certificate and cash prize of Rs. 25,000. The winning slogan was, – "Aapda Prabandhan Maha Vichar : Poora Bharat Bhagidar".
The Ministers also felicitated ten Start-Up companies for bringing innovation in Disaster Management. They had put up the exhibition during the NPDRR.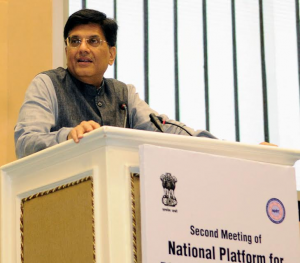 Sanjeev Kumar Jindal, Joint Secretary, MHA presented the outcomes of all the sessions organized over the two-day event. He said that Ministry will work on the recommendations and prepare a roadmap for its execution.