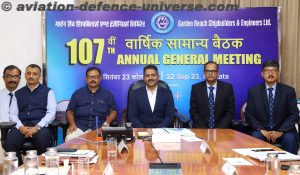 Kolkata. 23 September 2023.  The 107th Annual General Meeting (AGM) of Garden Reach Shipbuilders and Engineers (GRSE) Ltd was held on Friday, 22 Sep 23. The meeting was attended by Cmde PR Hari, IN (Retd), Chairman and Managing Director, GRSE, R K Dash, Director (Finance), Cdr Shantanu Bose, IN (Retd), Director (Shipbuilding), DIG Subrato Ghosh, ICG(Retd.), Director (Personnel) and Sandeep Mahapatra, Company Secretary, along with the Independent and Government nominee Directors and shareholders of the company.
FY23 has been the most successful year in the Company's history in terms of key performance parameters.
Revenue from Operations increased by 46% from Rs 1,754 crore in FY22 to Rs 2,561 crore in FY23.
Total Income grew from Rs 1,916 crore of FY22 to Rs 2,763 crore in FY23. This increase of Rs 847 crore over the previous year was a growth of 44%.
The EBITDA stands at Rs. 351 crore in FY23, as against Rs. 294 crore in FY22, with an increase of 19%.
The Profit After Tax (PAT) increased by 20% from Rs 190 crore in FY22 to Rs 228 crore in FY23.
Earnings per share (EPS) grew by 20% from Rs 16.55 in FY22 to Rs 19.91 in FY23.
The shareholders of the Company at 107th Annual General Meeting held on 22 Sep 2023 approved a Final Dividend of Rs. 0.70/- per equity share of face value of Rs. 10/- each for the financial year 2022-23. This is in addition to the Interim Dividend of Rs. 5.50/- per equity share of face value of Rs. 10/- each, which was paid in Feb 2023. The total dividend declared for the financial year 2022-23 is Rs. 6.20/- per equity share of face value of Rs. 10/- each.
"During the year, even as the world was grappling with the ripple of economic volatility due to the Russia-Ukraine conflict, our company delivered a robust performance. The Company's strength and resilience have helped it steer through the challenges to surpass market expectations and achieve unprecedented milestones," Cmde Hari informed the gathering during the AGM.
GRSE began the year with an order book of Rs 24,103.60 crore and was working on seven projects. Apart from three Project 17A Frigates, four Survey Vessels (Large), and eight ASW Shallow Water Craft for the Indian Navy, the shipyard was also building a Fast Patrol Vessel (FPV) for the Indian Coast Guard, In addition to this, GRSE was working on an electric zero-emission ferry for the Government of West Bengal and two export orders. The export orders included an ocean-going passenger-cum-cargo ferry for the Cooperative Republic of Guyana and six patrol boats for Bangladesh. The orders for Survey Vessel Large (SVL), ASW Shallow Water Craft, & the ferry for the Cooperative Republic of Guyana were won on competitive bidding.
In 2022-23, GRSE delivered the FPV to the Indian Coast Guard and the ferry to Guyana ahead of schedule. As on March 31, 2023, GRSE's order book stood at Rs 25,111.29 crore. This increase was due to a new order for four Next-Generation Offshore Patrol Vessels (NGOPVs) for the Indian Navy, won on competitive bidding again. This order is worth Rs 3,550 crore and reflects the confidence that the Ministry of Defence and the Indian Navy has on the capabilities of GRSE.
Despite challenges posed by disruptions in the global supply chain, construction of the three Project 17A Frigates progressed as per schedule during FY23. The first of the Survey Vessels (Large) is undergoing trials and three of the ASW Shallow Water Crafts were launched during the year and are under various stages of completion.
In keeping with GRSE's Atmanirbharta pledge, the company has diversified into the manufacture of weaponry as well. GRSE has signed a contract with the Indian Navy for the supply of ten 30mm Naval Surface Guns with Electro-Optical Fire Control Systems for a price of Rs 248.51 crore. GRSE is in the business of Portable Steel Bridges, manufacturing of Deck Machinery items and engine assembly, overhaul and testing. GRSE has also signed a Memorandum of Understanding (MoU) with the Border Roads Organisation (BRO) for the supply of 30 double-lane modular Bridges recently. This is in addition to the order for 30 such bridges already placed by BRO with GRSE.
The Chairman and Managing Director also highlighted how the company has signed MoUs with global OEMs for the manufacture of marine engines and water jets. He also spoke on the efforts by GRSE to nurture Start-Ups and enable them to develop new Artificial Intelligence (AI)- enabled technology for greater efficiency. The launch of GAINS 2023 (GRSE Accelerated Innovation Nurturing Scheme) this year has been an initiative to boost Indian Startups.