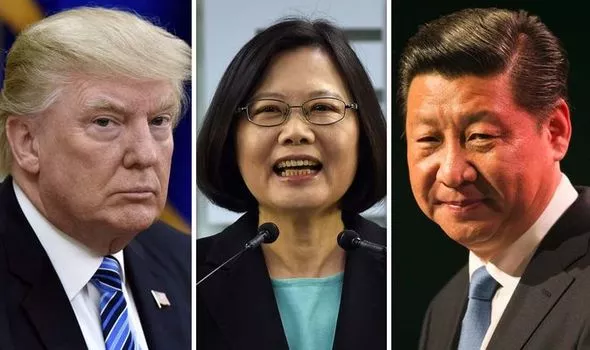 By Suresh Somu
Jakarta. 02 October 2020. TAIWAN appears to be a "game changer" in the current volatile USA-China relations as majority in South-East Asia watch with subtle concern on how these new rising tides may turn out.
Taiwan's President Tsai Ing-wen wants to create an alliance to defend "freedom, safety, human rights and democracy" in Asia, as the self-ruled island faces renewed pressure from neighbouring China. Though she did not mention China explicitly in her speech, given at a security forum in Taipei, she left little doubt over who she was referring to, saying Taiwan was at the forefront of "defending democracy from authoritarian aggression."
Her speech came as a Chinese state-backed tabloid reported that foreign officials who visit Taiwan, as well as international companies that do business on the self-ruled island, could face sanctions from Beijing – the latest potential move by China to rein in Taiwan's growing stature worldwide. Beijing claims full sovereignty over Taiwan, a democratic island of almost 24 million people located off the east coast of mainland China.
For the record, Taiwan has never been controlled by China's ruling Communist Party. Despite this, authorities in Beijing insist the island is an integral part of their territory, and have for years imposed diplomatic, trade and military pressure on Taipei, marginalizing it in the international community and allegedly interfering in the island's politics. Pressure has ramped up since President Tsai was first elected in 2016, with Beijing siphoning off several of Taipei's few remaining diplomatic allies and stepping up military maneuvers and saber rattling. Her party traditionally supports full independence for Taiwan – officially the Republic of China – which exists in a Schrodinger-like state of both being entirely self-governing while not being recognised on the international stage.
NO TAIWAN RECOGNITION
Most countries adhere to China's demand that Taiwan not be recognised as an independent nation, observing Beijing's view there is "one China" that is ruled from the mainland — though few governments recognise Chinese claims to the island of Taiwan itself. Within Taiwan, however, that pressure has largely backfired. President Tsai is buoyed by concerns that any move towards China could see the island go the same way as Hong Kong, where Beijing has increasingly stripped what democratic freedoms the semi-autonomous city once had.
Two years ago, US President Donald Trump signed the Asia Reassurance Initiative Act (ARIA) into law. Apart from several provisions it covers, for security itself, US$1.5 billion per year has been sanctioned. The ARIA emphasizes the importance of working with allies and partners "to confront common challenges" and shows the US commitment to "freedom of navigation under international law and the "peaceful resolution of maritime and territorial disputes".
It also reasserted US support for Taiwan and calls on the President of the United States to "encourage the travel of high-level United States officials to Taiwan, in accordance with Taiwan Travel Act", which was made law in 2019.
In 2018, I wrote a piece, Taiwan remains a 'pawn' in US-China Relations. As tit-for-tat become prevalent between two hunger power nations, analysts and observers pondered the stance both the US and China are playing and how long this could go for. In the security architecture, while the US pushes for freedom of navigation, what it is really bothered is China's growing dominance and expansion in South China Sea (SCS). China too, has not backed down as it often clashes with the claimant states in the region as far as nine-dash line is concerned.
SECOND TRANSIT
In Taiwan Straits, when a United States guided missile destroyer sailed, it marked the second transit in less than two weeks; a clearest signal yet of Washington's willingness to stand up for Taiwan in the face of Chinese aggression. As the recent situation has been tense in the region, the strategic competition between China and the US looms large. So nowhere is this more obvious than in South China Sea and Taiwan Strait.
For the Trump administration, it is playing the Taiwan card and crossing the "one China" line, pushing Beijing government to make concessions knowing very well China cannot back off when it comes to Taiwan. And through legislation and arms sales, as well as stepping up relations with Taiwan, it doesn't go very well with China.
And so it was not an eventful sight for China when for the first time over in decades, a senior US envoy, Keith Krach, the Under Secretary for Economic Growth, Energy, and the Environment and Alex Azar, the Health Secretary, arrived in Taiwan. A threat to "peace and stability" echoed by the China Defence Minister who warned against Washington for making any "dangerous moves".
In the past weeks, the Chinese People's Liberation Army (PLA) has conducted several intensive aerial and maritime reconnaissance missions of the island of Taiwan. Recently, the Taiwanese fighter jets scrambled to intercept the Chinese aircrafts. The major air force base on Penghu, home to F-CK-1 Chingkuo Indigenous Defence Fighters (IDFs) is at the front line of Taiwan's response to Chinese jets. The Taiwanese remained firm in defending the airspace in real time as long as there's a threat.
STRONG CONDEMNATION
The Chinese Foreign Ministry denied any breach of the Taiwan Strait. As a matter of fact, it slammed that the mid-line did not exist, drawing strong condemnation from Taiwan Foreign Minister Joseph Wu. The mid-line is an unofficial barrier for combat aircraft of both sides and an important "symbol" for avoiding military clashes.
According to Randall Schriver, former US Assistant Secretary of Defence for Indo-Pacific security affairs, he opined Taiwan is well situated to defence itself, with a stretch of the Pacific Ocean – the Taiwan Strait — sitting between it and the mainland. Although the PLA could do more damage with its superior arsenal of missiles and bombers, destruction does not equal conquest. And it will become a defensible nation if it acquires the right systems with the US support.
Now there's discreet pressure for the South-East Asian countries to wake up and stand up. At the Asean-US Foreign Ministers' meeting, US Secretary of State Mike Pompeo called Asean to stand up to China's "bullying". While it may seem that Asean countries are pushed to take sides, it makes the situation more delicate and nervy when China continues to exert its force in the region too. The rising tension in the Indo-Pacific is no good for any country. And truth be told, China's international and regional outlook will not bode well if it continues to trend on this path.
The bigger question: How to react to Taiwan who is showing up to be a "game changer" in the current volatile USA-China relations with Taiwan's President Tsai Ing-wen saying Taiwan was at the forefront of "defending democracy from authoritarian aggression".