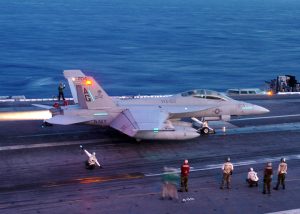 By Sangeeta Saxena
New Delhi. 03 July 2017. When Boeing's Dan Gillian, vice president, F/A-18 & EA-18 Programs made a presentation on next generation carrier requirements of the Indian Navy at a seminar organized by FICCI on 'Building India's  Future Navy: Technology Imperatives'  recently, it sent many a minds analysing overtime. When he stated that the importance of carrier aviation cannot be understated – in particular to a country like India with a large coastline covering more than half its borders and a make in India program with a platform like the Super Hornet a great way for Indian industry to position itself for its Advanced Medium Combat Aircraft, or AMCA, a thought came to the mind-why should India make the Super Hornet? And will Trump's America want to make Super Hornets in India?
With Modi's Make in India and Trump's America First every US-India project currently in place or for the future needs to be looked into through a new light. And this really is food for thought.
He is right when he says that the SuperHornet brings advanced technologies and manufacturing processes that will uniquely support the path to the AMCA, including the manufacture of a stealthy, survivable aircraft but there were three major problems with Super Hornets purchase by India in the squashed MMRCA tender which still hold true when it wants to make in India. Firstly there is not an  extensive Transfer Of Technology, secondly the US major is not offering to build the advanced Super Hornets in the first go, although it promises to make them later and thirdly MiG35 with its maneuverability and dogfighting skills and F35 with its short take off and  vertical launch capabilities make them more appropriate for  carrier operations, despite Super Hornets having reduced frontal RCS which provides an edge to it in Air combat and also having an external weapons bay which make them a cheap and partially stealthy solution. The Super Hornet is a naval, carrier-capable fighter-bomber but it does compete with the potentially more capable F-35C.
Dan said, " we have been building F/A-18 assemblies and wire harnesses in India because it makes good business sense to do so. Boeing has had a presence in India for more than 7 decades and has played a significant role in developing India's aerospace and defense sector through integrating Indian companies in our global supply chain. The much talked about Make in India is a continuation of what Boeing has been doing for years. Boeing's Super Hornet Make in India model addresses the infrastructure, personnel training, and operational tools and techniques required to produce an next gen fighter aircraft right here in India. Super Hornet Make in India transitions airframe and subsystem manufacture to Indian industry in a deliberate way, representing extraordinary opportunity for technology insertion and growth within India's aerospace industry. Boeing's commitment to India extends further. Last year, Boeing and Mahindra Defense Systems announced the opening of a center that currently provides C-17 training services to the Indian Air Force. Also last year, Boeing and TATA celebrated the ground-breaking of a new facility in Hyderabad for our joint venture named TATA Boeing Aerospace Limited. There, we co-produce Boeing's Apache helicopter fuselages and other aero structures, as well as pursue integrated systems in aerospace."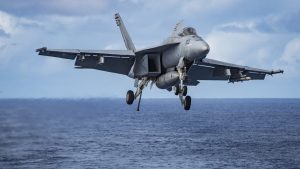 The Indian government wants to give a fillip to Make in India and end the country's dependency on foreign arms makers, but the technology still remains foreign. Also keeping in mind that the F18A Super Hornet which has never had a major export success like F16 and with no great orders the production line running beyond 2018 is the million dollar question. Both F/A-18E/F and the electronic warfare variant E/A-18G have failed to hit the market as Boeing would have liked it to. So will the facility in India have the numbers to make it profitable?
Dan informed that on May 23rd, the President of the United States sent his 2018 fiscal year budget to Congress, and included in that budget was a requirement for 80 Super Hornets over the next 5 years to address its strike fighter shortfall. Also in that budget request was funding for Block 3 capabilities to ensure the air wing has the capabilities needed to win in the 2020s and beyond.
This is American President Donald Trump's America First theory in play. So in this case will he not want to generate employment in America for Americans and not in India for Indians? So it is quite a possibility he might want to sell the Super Hornet off the shelf to India as a FMS as in Apache and Chinook sales to India- keep the technology intact and  also   fulfill his employment for Americans election promise. So it is just a wait and watch situation meanwhile India has time to weigh the best options for its futuristic Navy.