Indian Defence Minister tells the world at Bangkok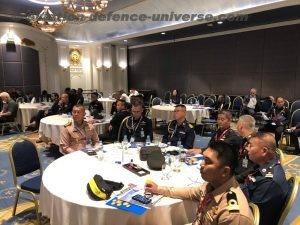 By Suresh Somu
Bangkok. 19 November 2019. INDIA intends to flex its defensive muscles to be a serious global defence player in the months to come, says Defence Minister Rajnath Singh.
He stressed that India's defence sector has significantly matured and is exploring mutually beneficial partnerships with friendly countries to set up industries in India and abroad.
Showcasing India's defence potentials, the Defence & Security, Bangkok, 2019 was the right platform as it drew global participants and top leaders and officials. It was also an opportune moment for India to blow its trumpets and to portray to the world how it has advance over the years in terms of defence capabilities and its trajectory to become self-reliant nation.
Organised by the Indian Chamber of Commerce, during a business seminar themed India Rising in full capacity, the Defence Minister alongside with his entourage addressed the attendees from the Thai Armed Forces and delegates.
Under the 'Make in India' initiative, India is making progress to reduce dependence on imports and make India a major defence manufacturing hub and net exporter of defence equipment and platforms.
AMBITIOUS TARGET
Rajnath said that Government has ambitiously set a target of taking India's defence exports to US$5billion by 2025 under the 'Draft Defence Production Policy 2018'.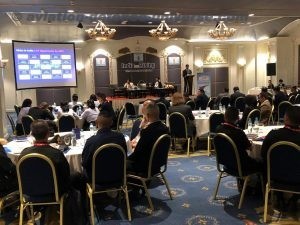 "On one hand this target is ambitious, but at the same time it is encouraging that India's defence exports have grown almost six-fold in the last two years," he said. To add, a whopping US $10 billion investment will be done in the aerospace and defence goods and services sector by 2025. And this will effectively create employment for about two to three million people in India.
Concurrently to the above, Mr Rajanth also outlined the various initiatives taken by Ministry of Defence (MoD) that has led to rapid increase in exports. One area was to include the simplification of procedures for exports, industry licensing process and increasing Foreign Direct Investment (FDI) cap. And streaming of defence offset policy and making government trial and testing facilities available to the private sector.
'BUY INDIAN'
In 2016, the 'Defence Procurement Procedure' was revised in 2016 to encourage the domestic defence industry. And a new category 'Buy Indian – IDDM (Indigenously Designed, Developed and Manufactured) was introduced to promote indigenous design and development of defence equipment.
"The government's desire to establish two defence corridors in Tamil Nadu and Uttar Pradesh is clear. A Defence Innovation Hub is already functioning in Coimbatore. And a Defence Planning Committee has also been formed. In this regard, the Government of Uttar Pradesh has planned to build a defence manufacturing corridor along with the proposed Bundelkhand Expressway which will help in making India self-reliant in the field of defence production," he added.
In the past five and a half years, the Government has undertaken far-reaching reforms to increase synergy between public and private sector. And it has contributed positively in defence production and procurement. He said, work is on to introduce a common testing and certification scheme under a Public Private Partnership model to create an enabling environment.
Rajnath voiced the Government's resolve to promote self-reliance in defence through five I's (Identification, Incubation, Innovation, Integration and Indigenisation).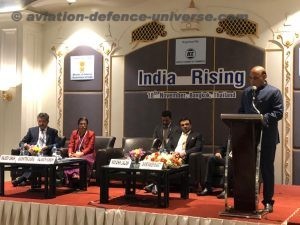 He said the MoD has set a target to fund 250 startups, 16 personal initiatives and five Defence Innovation Hubs through Defence Innovation Organisation (DIO) in the next five years. Arising from the funding, at least 50 technological designs would be made to meet the requirements of the Armed Forces.
A Defence Innovation Fund is also prepared to support government participation through equity investment in defence startups.
He said: "A new Transfer of Technology (ToT) policy is being created to simplify the way of transferring technology developed by DRDO to the industry. So far, more than 900 ToT licensing agreements have been signed with industries which is a major step towards making the defence manufacturing sector self-sufficient."
'DEFEXPO' IN FEBRUARY
To add extra power to their defence ambitions, India has invited domestic and overseas investors to actively participate in the forthcoming 'DefExpo' to be held in Uttar Pradesh capital Lucknow from February 5-8, 2020.
The Ministry of Defence even organised the Ambassadors' Round Table conference recently. The Round Table was aimed at briefing the representatives of foreign missions based in New Delhi about the arrangements being made for 'DefExpo' and elicit suggestions from them to further improve the experience.
"Heads of Missions and Defence Attaches of over 80 countries participated in the conference indicating the growing stature of the 11th mega biennial event, to be held in Lucknow," the Ministry of Defence said.
India is on an inspiring new defence course and the firing message is clear: It wants to be serious global arms player in the months to come and to explore mutually beneficial partnerships with friendly countries to set up industries in India and abroad.