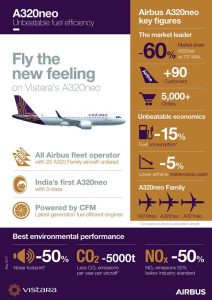 Toulouse, France. May 24th, 2017 . Airbus has delivered the first A320neo to Vistara, a Delhi based full service airline and joint venture between Tata Sons Ltd. and Singapore Airlines (SIA). The delivery is the first of seven aircraft to be leased from BOC Aviation. The aircraft sports a unique A320neo Vistara star symbol livery on its underbelly.
The CFM powered aircraft is configured in a three class layout with 158 seats (8 business class, 24 premium and 126 economy class). Vistara has taken inputs from its growing number of frequent fliers and redesigned the cabin with even more comfort and relaxing features such as mood lighting and increased seat pitch.
Vistara currently operates 13 A320 aircraft on domestic India routes. The increased range of the NEO provides greater reach as Vistara spreads its wings internationally in the future.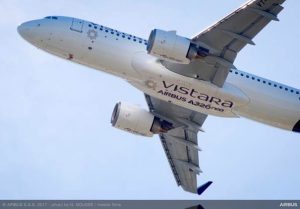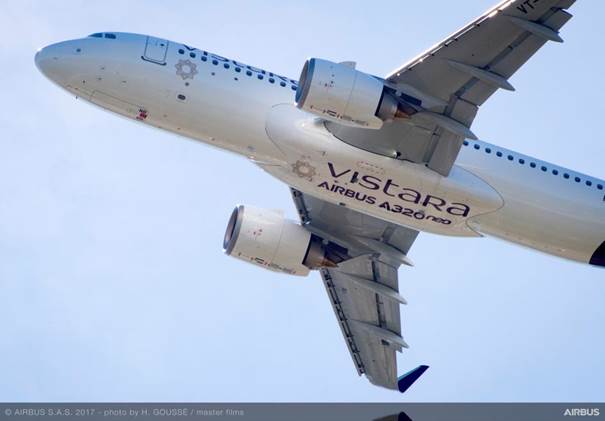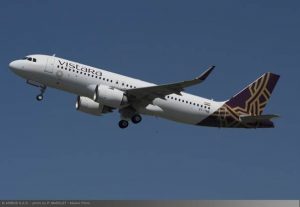 he A320neo Family incorporates the very latest technologies including new generation engines and Sharklets, which together deliver more than 15 percent fuel and CO2 savings from day one and 20 percent by 2020 as well as 50 percent noise reduction. With more than 5,000 orders received from 92 customers since its launch in 2010, the A320neo Family has captured some 60 percent share of the market. With this delivery, Airbus has delivered more than 110 A320neo aircraft to 24 operators.