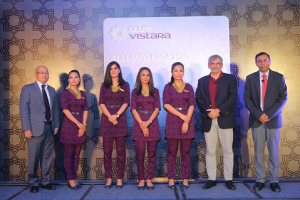 New Delhi, 26 September 2016. Vistara launched the Club Vistara , it's frequent flyer program. It provides its members enhanced privileges and also offers the fastest earn, redemption and faster elite tier upgrades. CV members can accumulate CV points when flying with Vistara, engaging with co-brand and airline partners, and also by participating in various promotions, claims the airline.
Commenting on the launch of revamped Club Vistara program, Phee Teik Yeoh, CEO, Vistara, said, "We are committed to delivering value and outstanding service to our customers. In response to the evolving needs of our frequent flyers, we have enhanced our program and introduced new features that are relevant and important to them. We are confident that the revamp of the Club Vistara program will delight the members and draw more travellers to Vistara."
In addition to the existing CV Gold and CV Silver membership tiers, the airline has introduced a Platinum membership as its highest tier, and has also introduced a two-track scheme for elite tier qualification, based on through points accrued or flights flown, whichever is quicker. Club Vistara Silver, Gold, and Platinum level members receive a host of benefits like additional baggage allowance, priority check-in and baggage handling, priority boarding, complimentary upgrade vouchers and vouchers for guest lounge access, and no-fee rescheduling, depending on their tier status.
Talking about the revamp of the program, Sanjiv Kapoor, Chief Strategy and Commercial Officer, Vistara, said, "When we set out to redesign Club Vistara, we started by asking frequent flyers of Vistara and other airlines what they would want to see in their ideal program. We asked them what they valued most, and also what were their key pain points across different loyalty programs. We then designed the program to reflect what we heard. Not only is it now the fastest rewarding loyalty program, it is also the most generous. Importantly, Elite level benefits can be enjoyed by customers regardless of class of travel or fare paid. It is truly a program by frequent flyers, for frequent flyers."
The airline is also offering all existing CV members an exclusive limited period 50% discount for redeeming Award flights and upgrades in all classes, as a mark of gratitude for their loyalty.