New Delhi. 08 October 2020. Vistara, India's full service carrier, joins hands with HP for their initiative – 'Project Smile', that aims to recognise those on the frontline during the COVID-19 pandemic by printing and pasting their smiling faces on their respective protective suits.
Through the initiative Vistara celebrates the spirit and effort of its frontline teams, between 07 and 09 October 2020, by #BringingTheSmilesBack from behind their masks. With this, Vistara also becomes the first non-healthcare brand to associate with Project Smile.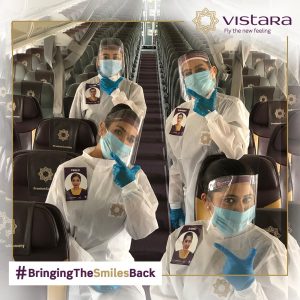 Deepti Sampat, Vice President, Marketing, Vistara, said, "These unprecedented times have reminded us all the significance of the selfless work of those on the frontline. Despite the odds and much like health workers, airline cabin crew around the world continue to brave this pandemic and help people travel safely. Our participation in HP's 'Project Smile' is – first – an expression of Vistara's recognition of their effort, and second, a reminder to our customers that behind those protective gear, we remain the people who serve them with the same warmth and smiles as we always did."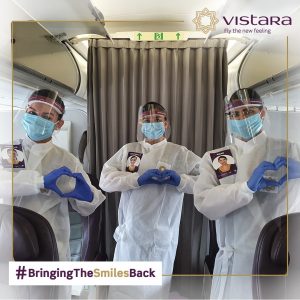 Cabin crew on Vistara's flights between Delhi and London Heathrow, Chennai, Hyderabad, Kolkata, Mumbai, and Goa, will have these special photo stickers pasted on their protective suits, during the three-day period. The stickers will be printed on special, environment-friendly paper, appropriate for use in sensitive environments like hospitals and flights.
'Project Smile' is an initiative powered by HP that aims to bring back smiles of people on the frontline and make human interactions more humane.