Daily flights to Singapore from Delhi starting Aug 6
Daily flights to Singapore from Mumbai starting Aug 7
Vistara to soon add other international destinations to network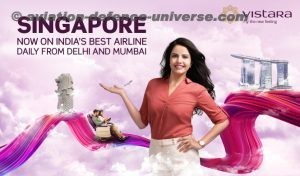 New Delhi/ Singapore. 11 July 2019. Vistara, India's finest full-service carrier and a joint venture of Tata Sons and Singapore Airlines, now arrives on the global map with flights to Singapore from Delhi and Mumbai starting 6th and 7th August 2019, respectively.
Vistara will operate two daily flights to Singapore, one each from Delhi and Mumbai, providing its globally applauded service to travellers on these routes. Customers can also take convenient one-stop connections to and from several other Indian cities beyond Delhi and Mumbai, including but not limited to Amritsar, Chandigarh, Jammu, Lucknow, Ranchi, Raipur, Srinagar and Varanasi. The airline will soon expand its international network further to other destinations.
Vistara will fly its Boeing 737-800NG aircraft with two-class cabin configuration (Business and Economy) to Singapore. The airline announced introductory all-inclusive round-trip fares as follows:
| | | |
| --- | --- | --- |
| Sectors | Economy Fares | Business Class Fares |
| Delhi-Singapore-Delhi | INR 21,877 | INR 76,890 |
| Singapore-Delhi-Singapore | SGD 451 | SGD 1452 |
| Mumbai-Singapore-Mumbai | INR 20,778 | INR 63,331 |
| Singapore-Mumbai-Singapore | SGD 522 | SGD 1972 |
Leslie Thng, Chief Executive Officer, Vistara, said, "We present to the world today a shining new symbol of warm Indian hospitality with a contemporary approach and world-class service. We're excited to start with Singapore as our first international destination, which we see as a very important market, given the opportunities it presents for corporate, business as well as leisure travel. As we soon take the 'new feeling of flying' to more international destinations, we hope to provide our customers from overseas the finest way to experience India, and inspire travellers from across India to explore more of the world."
Thng added, "We thank our customers, partners and all other stakeholders for their support that makes Vistara what it is today. We are grateful to the concerned authorities in India and Singapore for their support."
Vistara aims to take its India success story to global markets, building on its unique attributes and by continuing to innovate and embed thoughtfulness in service delivery. The airline views Singapore as a key addition to its network, as demand for travel to and from the country continues to increase, complementing the rising trade, business and tourism.
SCHEDULE OF FLIGHTS TO SINGAPORE FROM DELHI AND MUMBAI(All timings shown are in local times)
Flights between Delhi (DEL) and Singapore (SIN)
Flight No.
Start Date
From
To
Departure
Arrival
Frequency
UK115
6-Aug-19
Delhi (DEL)
Singapore (SIN)
2345 Hours
0815 Hours (+1)
Daily
UK116
7-Aug-19
Singapore (SIN)
Delhi (DEL)
0930 Hours
1245 Hours
Daily
Flights between Mumbai (BOM) and Singapore (SIN)
Flight No.
Start Date
From
To
Departure
Arrival
Frequency
UK105
7-Aug-19
Mumbai (BOM)
Singapore (SIN)
2355 Hours
0815 Hours (+1)
Daily
UK106
8-Aug-19
Singapore (SIN)
Mumbai (BOM)
1030 Hours
1355 Hours
Daily
(+1) indicates next day arrival. Above mentioned flight details are subject to final regulatory approvals
Last year, Vistara placed its aircraft order of a combination of purchased and leased aircraft totalling 50 from the Airbus A320neo family (including the A321neo) for domestic India as well as short and medium-haul international operations, with deliveries scheduled between 2019 and 2023. Additionally, the airline has purchased six Boeing 787-9 Dreamliner aircraft that are scheduled to be delivered between 2020 and 2021, and will be used for long-haul international operations.