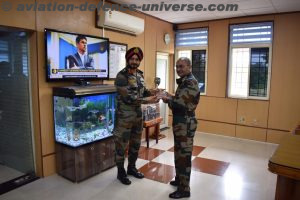 New Delhi. 08 August 2022. Lieutenant General HS Kahlon, SM, GOC, Maharashtra Gujarat & Goa Area was on a two day visit to Army Establishments in Nagpur & Kamptee from 05 Aug to 06 Aug 22.
On 05 Aug 22, he started the day by calling on Air Marshal Vibhas Pande, AVSM, VSM AOC-in-C, Maintenance Command at his office and had a very thought provoking and interactive discussion. Later he was briefed by Maj Gen Dinesh Hooda, VSM, General Officer Commanding, Uttar Maharashtra and Gujarat Sub Area about the active role being played by Sub Area in Humanitarian Aid in Disaster Relief and Welfare of Ex-Servicemen. The GOC appreciated the timely assistance provided during the flood relief in Chandrapur District on 19 & 20 Jul 2022 during recent floods, wherein more than 100 civilians were evacuated.
The General Officer visited Kamptee on 06 Aug 22 where he was briefed about improvements in the station including Military Hospital facilities and logistic storage capability of the Cantt.