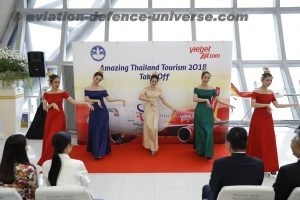 Bangkok, 01 November, 2017. Vietjet Thailand held the "Amazing Thailand Tourism Year 2018 Take-Off" event to unveil its new aircraft livery in the witness of Thailand Minister of Tourism and Sports and Vietnam Ambassador to Thailand on the first day of The Amazing Thailand Tourism Year 2018 campaign.
This is one of the main activities in the cooperation framework between Vietjet Thailand and Ministry of Tourism and Sports to promote Thailand tourism in year 2018, enhancing the slogan "Unique Thai Local Experience". The campaign aims to promote tourism and create added value among domestic and international tourists to enjoy their trips as well as to help them better discover unforgettable experiences in Thailand.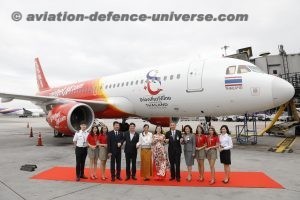 "As part of Vietjet group, Vietjet Thailand will be the connectivity of tourism between Thailand and Vietnam. We are always willing to contribute to the growth of Thailand tourism and economy as a whole by various activities promoting the destinations, culture and toursim of the country. The second aircraft wearing logo of The Amazing Thailand Tourism Year 2018 will accompany the campaign throughout all journeys. Together with the campaign of Thailand Tourism, we will further extend our flight network not only in domestic Thailand, but also to international destinations in Vietnam and in the region, bringing more chances for local & inbound travelers to enjoy the amazing journeys here," said Nguyen Thi Thuy Binh, CEO of Vietjet Thailand.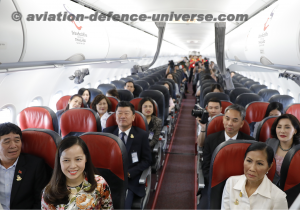 Remarked at the event, Kobkarn Wattanavrangkul, Minister of Tourism and Sports Thailand stated "I very much appreciated Vietjet team for their proactive actions and enthusiasm in supporting the campaign of Amazing Thailand Tourism Year 2018. We believe that our collaboration will deliver positive contribution to the growth of tourism and economy of Thailand and Vietnam with the new-age spirit. By the campaign Amazing Thailand Tourism Year 2018, we will further establish better connectivity between country and country, people and people."
To deliver its commitment in further promoting Thailand, Vietjet Group has recently introduced two new international routes connecting Phuket and Chiang Mai with Vietnam's largest tourism and economic hub of Ho Chi Minh City. The new routes, which will be all in operation from December 2017, are expected to meet the increasing travel demand between the two countries.