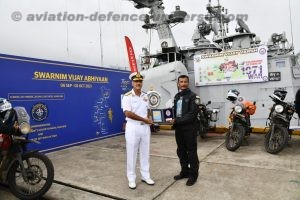 New Delhi. 09 September 2021. The second leg of the motorcycle expedition titled 'Swarnim Vijay Abhiyan' was flagged off from Naval Dockyard, Mumbai on 09 September 21 by Rear Admiral Atul Anand, Flag Officer Commanding Maharashtra Naval Area (FOMA).
At Mumbai, the expedition team visited ships of the 'Killer' Squadron in commemoration of the significant contribution the squadron made in delivering a deathly blow on Karachi during 'Op Trident' and 'Op Python' in the 1971 War.
The expedition commenced from Karwar on 06 Sep 21. Over 50 naval personnel are taking part in various legs of the 6000 km expedition from Karwar to Delhi on 11 motorcycles and two support vehicles.
The expedition team visited NDA at Khadakvasla and INS Shivaji at Lonavala enroute to Mumbai.
Post-departure from Mumbai, the team will transit through various military establishments in Gujarat, Rajasthan, Himachal Pradesh and Punjab before arriving at New Delhi on 03 Oct 21.