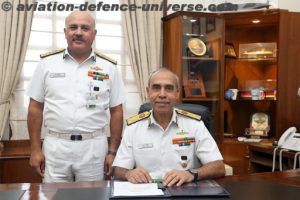 New Delhi. 01 October 2023. Vice Admiral Tarun Sobti, AVSM, VSM assumed charge as Deputy Chief of the Naval Staff on 01 Oct 23.
Vice Admiral Tarun Sobti was commissioned into the Indian Navy on 01 Jul 88 and is a Navigation and Direction Specialist.
In his career spanning over 35 years, he has held a variety of Command and Staff appointments both ashore and afloat. The Flag Officer has commanded INS Nishank, a Missile Boat, INS Kora, a Missile Corvette, and Guided Missile Destroyer INS Kolkata. In his staff tenures he has served in the Directorate of Staff Requirements and Directorate of Personnel, and as the Naval attache at the Embassy of India at Moscow.
On promotion to the rank of Rear Admiral in 2019, he was appointed as the Deputy Commandant and Chief Instructor at Indian Naval Academy, Ezhimala and subsequently as Flag Officer Commanding Eastern Fleet.  On elevation to the rank of Vice Admiral in 2021, he took over as Director General Project Seabird prior taking over the present appointment as Deputy Chief of Naval Staff at NHQ MoD.
The Flag Officer was awarded the Vishisht Seva Medal in 2020 and Ati Vishisht Seva Medal in 2022 by the Hon'ble President of India.
He has succeeded Vice Admiral Sanjay Mahindru who retired after more than 38 years of illustrious service on 30 Sep 2023. During the tenure of VAdm Sanjay Mahindru as DCNS, the Indian Navy witnessed a number of significant achievements that have elevated India's maritime reach and operational tempo, as also a number of successful strategic cooperation initiatives with friendly foreign countries.