Port Blair. 29 February, 2016. Vice Admiral Bimal Verma AVSM took over as the 13th  Commander-in-Chief of the Andaman   &   Nicobar   Command   (CINCAN). An alumnus of the prestigious Rashtriya Indian Military College (RIMC) and National Defence Academy where he was adjudged the best Naval Cadet, he  was  commissioned  in  the  Indian  Navy  on 01  Jan  1980  and  specialised  in'Communication and Electronic Warfare'.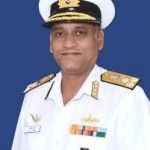 In the course of his career, the FlagOfficer has held numerous important Command, Staff and Operational appointments. Vice Admiral Verma's noteworthy afloat appointments include commissioning crew of INS Viraat, Signal Communication Officer of INS Ganga and Fleet Communication Officer of Western Fleet.  He has also been the Commanding Officer of amphibious platforms such as INS Shardul and Magar, missile destroyer INS Ranjit and guided missile destroyer INS Mysore.
Amongst his important ashore appointments, the Flag Officer has been the Principal Director Naval Operations at Integrated Headquarters, Ministry of Defence (Navy), Naval Attache in Tehran, Captain Local Work-up team (LWT) at Visakhapatnam, INTEG (Indian Naval   Tactical   Evolution   Group)   and   has   also   served   with   the   Signal   Intelligence Organisation.On elevation to the Flag rank, Vice
Admiral Verma has held appointments as FlagOfficer Doctrines & Concepts, Flag Officer Commanding Maharashtra and Gujarat NavalArea, Assistant Chief of Naval Staff (Information Warfare & Operations) and Flag Officer'Alternative Operational Base' project.   On promotion to the rank of Vice Admiral on 01November   12,   the   Flag   Officer   was   appointed   as   the   Chief   of   Staff,   Eastern   NavalCommand where he also coordinated the recently concluded International Fleet Review2016.For his distinguished services, Vice Admiral Bimal Verma has been awarded the AtiVishisht Seva Medal.