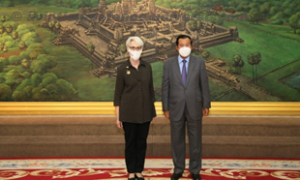 Pune, India. 18 June 2021. US Senior Diplomat Wendy Sherman says Washington has "serious concerns" about China's "military presence" at the Ream Naval Base which seems to be undergoing Beijing-backed expansion on Cambodia's coast.
A State Department statement said that Sherman expressed "serious concerns" about China's construction of facilities at the base. She also sought clarification regarding why two US-funded buildings there have been demolished without notification or explanation. Sherman said a Chinese military base in Cambodia "would undermine its sovereignty, threaten regional security, and negatively impact US-Cambodia relations,".
Prime Minister Hun Sen and other Cambodian officials have consistently maintained that China has been given no special privileges at the base. However, efforts to assuage US concerns suffered a setback when an American diplomat invited to inspect it was allowed only limited access, according to the US Embassy.
The Embassy said that Defense Attaché Col. Marcus M. Ferrara had traveled to the Ream Naval Base in coordination with Cambodian authorities, but was refused complete access to the facility.
Cambodian Government Spokesman Phay Siphan said, "Cambodia has fulfilled its commitment to allow a visit as requested, and if US officials were not satisfied, they could request another visit as long as it did not involve spying or violating Cambodian sovereignty." Officials of Cambodia's Defense Ministry responded to the US embassy's statement, "They are pretending. They should know that the kingdom has sovereignty and laws, but they have their hidden agendas for geopolitical gains."
Cambodia also issued a statement suggesting that the demolition of the 7-year-old US-funded Tactical Command Headquarters and its relocation in a new building elsewhere was a planned upgrade because the existing facility was not large enough, lacked docking facilities, and had limited capacity for training activities. It also reiterated that this would involve no change in function or relationships with foreign partners.
China is Cambodia's largest investor and very close political partner. Beijing's support allows Cambodia to disregard international concerns about its various human and political rights violations. In turn, Cambodia generally supports China's geopolitical stances on issues such as territorial claims in the South China Sea.
This entire interaction occurs in the backdrop of Washington and Beijing contending for influence in Southeast Asia. China is Cambodia's main source of economic support, through aid and investment. Relations between Cambodia and the United States are unstable due to Washington's criticisms of Hun Sen's undemocratic practices.
Basing rights in Cambodia would extend China's strategic military profile significantly and tilt the regional balance of power, putting pressure on the ASEAN group of countries, whose security concerns have historically been more closely aligned with the United States.