India reiterates faith in growing US-India defence ties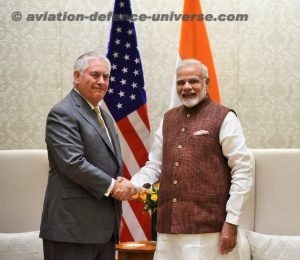 New Delhi. October 25, 2017. US Secretary of State Rex Tillerson called on Prime Minister Narendra Modi on his maiden visit to India in his current capacity. Prime Minister noted with appreciation the firm upward trajectory in the bilateral strategic partnership following the positive and far-reaching talks with President Trump in June this year.
Prime Minister shared the resolve expressed by Secretary Tillerson on taking further steps in the direction of accelerating and strengthening the content, pace and scope of the bilateral engagement. They affirmed that a strengthened India-US partnership is not just of mutual benefit to both countries, but has significant positive impact on the prospects for regional and global stability and prosperity.
In the context of President Trump's new South Asia Policy, Prime Minister noted the commonality in the objectives of eradicating terrorism, terrorist infrastructure, safe havens, and support, while bringing peace and stability to Afghanistan. In this regard, Secretary Tillerson exchanged views on his recent travels in the region with Prime Minister. They further discussed stepping up effective cooperation to combat terrorism in all its forms and promoting regional stability and security.
Earlier in the day, Secretary Tillerson also had detailed discussions with External Affairs Minister Sushma Swaraj and National Security Adviser Ajit Doval.External Affairs Minister stated that Indo-US defence engagements have intensified; both the nations are consulting closely on security and counter-terrorism issues. "Secretary Tillerson and I agreed that we will have to work closely to ensure that no country provides safe havens for terrorists; and those countries which provide support to terrorists or use terrorism are held accountable. We agreed that Pakistan should take immediate steps to dismantle safe havens which have been established there for terrorist groups. We believe that effective action by Pakistan against all terrorist groups without distinction is critical to the success of the new Strategy of President Trump," she added.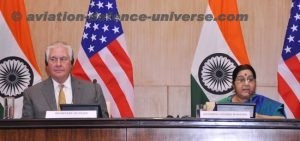 India is committed to working closely with the Government of Afghanistan and the international community, including the US, towards securing a democratic, peaceful, prosperous, stable, inclusive and secure Afghanistan. "We have also agreed to hold India-US-Afghanistan trilateral meeting at an early date. We have also decided to hold the inaugural meeting of new bilateral mechanism on domestic and international terrorist designations in India in December. We have also agreed to hold the inaugural meeting of 2+2 Dialogue Mechanism at an early date. We also agreed to encourage industrial partnerships between our defence companies.We believe that further liberalization of the legal framework and full implementation of the bilateral understanding on India's Major Defence Partner status will facilitate co-production and co-development. We appreciate the intent that US Administration has shown under President Trump to make available to India advance defence platforms. We look forward and hope to make further progress in this area" stressed Swaraj.