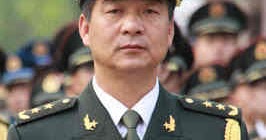 New Delhi. 23 June 2020. As per a report published in US News & World Report, Gen. Zhao Zongqi, head of the Western Theater Command approved the operation along the contested border region of northern India and southwestern China.
The Western Theater Command is one of the five theater commands of the People's Liberation Army of China since 2016. Its jurisdiction includes Sichuan, Tibet, Gansu, Ningxia, Qinghai, Xinjiang and Chongqing. Its commander is General Zhao Zongqi and its political commissar is General Wu Shezhou.
Galwan and Doklam standoffs have one thing in common. They had the same Chinese military commander .
Taiwan's newspaper Taiwan times says, "The account contradicts the narrative presented in China's state-run media mouthpieces that the incident had suddenly and unexpectedly occurred as tensions rose on the border. Instead, it appears that the attack was designed to intimidate India and stoke nationalist sentiment domestically. However, the fatal clash appears to have had the opposite of the desired effect, with nationlism within India and animosity towards China reaching a fever pitch. The immediate outcome of the melee was also less than ideal from the Chinese point of view in terms of casualties, with the latest estimates showing the Indian side suffering 20 dead and the PLA seeing at least 35 slain, including a commanding officer."
The million dollar question which remains unanswered is whether Chinese President Xi Jinping was involved in the decisions that led to the violent faceoff? Well nothing in China happens without the President's knowledge. So it is sure that he knew of the orders for Galwan.