By Surbhi Mahajan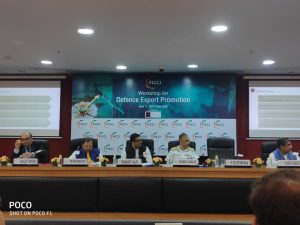 New Delhi. 19 June 2019. The year began with a statement by Secretary of Defence Production Ajay Kumar that India's defence export is likely to double to Rs 10,000 crore by the end of the current financial year. And within six months comes an announcement that not only boosts the morale of the industry but also gives a fillip to the Make in India programme of the Government.
In the prevailing technology and digitization driven era, open general export license are of utmost value. The Ministry of Defence, Government of India announced the launch of 'Open General Export License' which is aimed to boost the Indian Defence exports.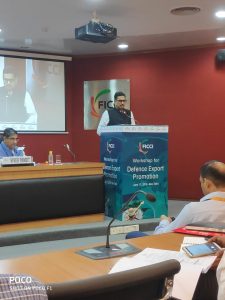 Sanjay Jaju, Joint Secretary (DIP), emphasized about the relevance of the new 'Open General Export License' scheme that is set to launch in a month's time. During the address, he also spoke on economic laws practice and the new procedure of online export applications.
Further highlighting the potential of defence exports, Jaju stated that the Indian manufacturing economy is likely to reach USD 1 trillion in next five years of which he expects USD 25 billion would come from the defence sector and further USD 5 billion to be generated by exports. He added that through the new license industry will be able to access international market and make the products more competitive. He further said that the production will also become better, both qualitatively and will also provide value for money for Indian customer. "We are working on launching the Open General Export License where the entire process of taking permission from government will also be further reduced."
The event organized by FICCI and Economic Laws Practice themed – 'Defence export promotion' witnessed participation from key industry dignitaries namely – Rear Admiral Atul Khanna, , Cmde Mukesh Bhargava, Member – National Defence Committee of FICCI and ED & Member of Board, L&T Defence, Sanjay Jaju, JS (DIP), Department of Defence Production Ministry of Defence, Government of India , Sanjay Notani, Partner, Economic Laws Practice.
There is an Export compliance for Munition list items in India which was a major topic of discussion. India is not a member of the Australia Group (AG), Missile Technology Control Regime (MTCR), Nuclear Suppliers Group (NSG), or Wassenaar Arrangement (WA). However, India does maintain a list of items controlled for export: the Special Chemicals, Organism, Material, Equipment and Technologies (SCOMET) list under Appendix 3 of Schedule 2 of the India Trade Classification (ITC-HS) of the Export Policy. This list is presently aligned with the MTCR and the Wassenaar Munitions List and administered by the Directorate General of Foreign Trade (DGFT) under the Ministry of Commerce & Industry, Government of India.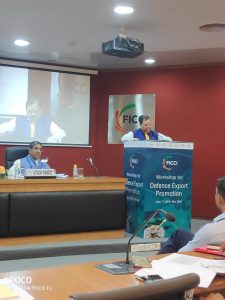 Cmde Mukesh Bhargava, Member – National Defence Committee of FICCI and ED & Member of Board, L&T Defence said that one of the major challenges faced by the private defence industry while exporting is the question of the value of goods sold to our own forces. He further said that Defence is a priority sector for the government under the 'Make in India' plan and highlighted 'Mission Raksha Gyan Shakti' (MRGS) which is a transformational initiative of MoD with the core aim to realize full potential of an 'IPR driven Innovation Culture'.
Export license applications are reviewed by the Interministerial Cooperation Group (IMCG), which includes the Ministry of External Affairs, the Department of Atomic Energy, the Defence Research & Development Organization, the Department of Space, the Department of Chemical and Biotechnology, and the National Authority for the Chemical Weapons Convention.

Types of Export Incentive Schemes & Benefits in India is very much in existence and was a major discussion point. Some of these are Advance Authorization Scheme, Advance Authorization for Annual Requirement, Export Duty Drawback for Customs, Central Excise, and Service Tax, Service Tax Rebate, Duty-Free Import Authorization. Zero duty EPCG (Export Promotion Capital Goods) Scheme and Post Export EPCG Duty Credit Scrip Scheme.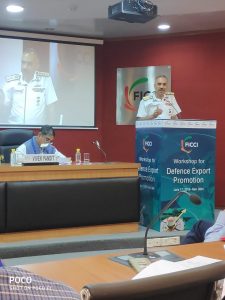 Rear Admiral Atul Khanna,
Additional Director General Quality Assurance (Naval), DGQA, Ministry of Defence reiterated on the importance of self reliance in the Indian defence sector and its capabilities along with capacities. He further encouraged the private defence exporters to boost export activities in order to diversify product line for better international market exposure.
Intellectual Property Right is a grave concern but India has a very strong and comprehensive copyright law based on Indian Copyright Act. 1957 which was amended in 1981, 1984, 1992, 1994 and 1999 (w.e.f.January 15, 2000). The amendment in 1994 were a response to technological changes in the means of Communications like broadcasting and telecasting and the emergence of new technology like computer software. The 1999 amendments have made the Copyright Act fully compatible with Trade-Related Aspects of Intellectual Property Rights (TRIPS) Agreement. & fully reflects Berne Convention. The amended law has made provisions for the first time, to protect performers' rights as envisaged in the Rome Convention. With these amendments the Indian Copyright law has become one of the most modern copyright laws in the world.
Identifying the right export market and then understanding those nations' import laws is the most important factor and Indian defence too has an export market list.The house concluded that marketing the product right and strategically will guide export .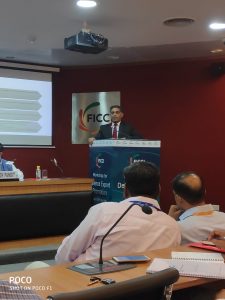 In the vote of thanks by N Raveeswaran, Member – National Defence Committee of FICCI and Head, Aerospace and Defence, Mahindra Defence, encouraged both public as well as private defence exporters to use online platform for filing applications going forward.The event provided a clear roadmap to both public as well as private defence exporters to make the products more competitive in today's defence landscape in the country.