Unveiling at Bharat Drone Mahotsav 2022 which is in alignment with the 'Make in India' and 'Atmanirbhar Bharat'
Trishula – a Trentar company in the UAV propulsion & component business division has launched its BLDC motors for Drones / UAVs – a first in India.
TM Aerospace has launched its gasoline powered, Fixed Wing VTOL Airplane
New Delhi. 27th May 2022. The Trentar Group launches its UAV and Propulsion systems at the Bharat Drone Mahotsav 2022. The introduction of the UAV and propulsion systems aligns with the 'Make in India' and 'Atmanirbhar Bharat' initiatives by our Honourable Prime Minister Narendra Modi. TM Aerospace, one of India's most innovative start-ups in the UAV's space, launched the most awaited UAV in hybrid gasoline powered and fully electric variants under the flagship brand "THE ARO X2-MKII" at the festival.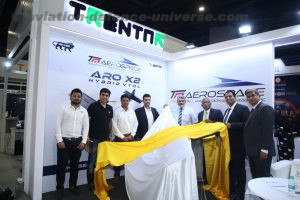 The gasoline powered, high endurance, fixed wing VTOL – The ARO X2 – MK II is one of the kind hybrid UAVs made of complete composite AIRFRAME, promising an endurance of more than 3hrs and can carry a payload to 3 kgs. The ARO X2's hybrid & fully electric VTOL platforms are powered by Trishula BLDC Electric motors. The BLDC motors are the first of its kind designed, developed, and manufactured in India. These motors not only make the local drone manufacturers self-reliant but also increases their indigenous percentage to a very large number.
Trentar acquired GarudaUAV, Trishula and TM Aerospace, further fund their aggressive growth, marked by the launch of the innovative UAV products at the Bharat Drone Mahotsav 2022. Motivated by the Atmanirbhar vision of our Hon' Prime Minister Narendra Modi the made in India UAV products will position India as one of most powerful, independent, and self-sufficient UAV ecosystems in the world.
Seshadri Viswanathan- Chief New Business Dev Officer at Trentar, said, "completely Indigenous, world class UAVs and subsystems is the vision we have for Trentar. Launch of Aro X2 MK II and the BLDC electric motors mark the beginning of a new era in the Indian UAV industry which is the era of self-reliance and being indigenous. Atmanirbhar is the mantra on which Trentar, and its group companies are built on. We have a clear road map to be indigenous in each of the other subsystems in the coming future. The launch of the propulsion system is just the beginning. We are working closely with the commercial and the Defence users and have identified key NextGen technology products to overcome their current challenges being faced and cause a breakthrough performance jointly. This will help make India a leading player in these specialty and new age segments".
Mohsin Pasha, Founder & CEO of TM Aerospace, said, "Since inception, TMA has been continuously innovating and have been successful in creating UAV platforms from reliable product design. Aro X2 MK II is a world class product with a complete composite air frame, which will put India on the World UAV manufacturers map. Extensive R&D investments and superior inhouse design capabilities are our prime focus to build most reliable and safe products. The development pipeline has already been defined for the next 5 years. We are confident that our culture of innovation backed by the vision and strength of Trentar will help us deliver world class products".
Prudhviraj Pakalapatti, Founder & CEO of Trishula, said, "Our dream of offering India its first locally designed, developed and manufactured electric propulsion system came true with this launch. It has been the result of committed efforts for the last 3 years. The products have been tested, benchmarked and proven to be performing better than the products currently available globally. Out next focus will be to extend our R&D and develop products for the EV segment. We strongly feel that our research capability backed by the strength of Trentar will help us deliver innovations in a short span of time".
Trentar Pvt Ltd, is a Group Company of Dorf Ketal with the vision of becoming a strong player in the New Age/Sunrise industries like Drone, Drone based services/software, Subsystems, AI, Robotics, Circular Economy. The Group had committed an investment of INR 1 billion in three years to design and build specialized UAV's and Drones for the Defence and Civil purposes along with Indigenously built UAV propulsion and subsystems.