ARMY & ASSAM POLICE LAUNCH JOINT OPERATIONS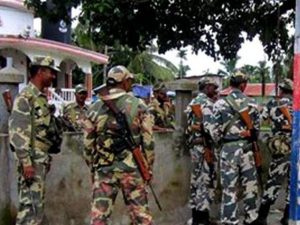 New Delhi. 21 May 2017. The troops of Red Horns Division under Gajraj Corps and Assam Police launched an operation in the evening of 21 May in Chirang District, based on specific inputs. The op was launched in the dense Manas Forest under adverse weather conditions.
The joint team observed suspicious activity and cordoned the area. Suddenly, the troops came under automatic fire from the cordoned area. The troops retaliated in a controlled manner and neutralised a top level NDFB (S) terrorist.
The terrorist has been identified as Jwrimiya Muchahary @ M Jwrimin, a 28 batch trained cadre of NDFB(S). One M16 Rif, one Pistol Beretta and large quantity of ammunition was recovered from him.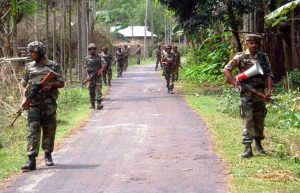 The terrorist was erstwhile self styled CO of NDFB(S)and he was recently appointed Dy C in C of NDFB .The terrorist was involved in a NIA case regarding plg & killing of Adivasis on 23 Dec 14 where 12 Adivasi villagers were killed as also in Priya Basumatary killing in August 2014.
The neutralisation of M Jwrimin is a severe blow to the NDFB(S). It will severely lower the morale of NDFB(S) as he was one of the most trusted & experienced cadre of NDFB(S).