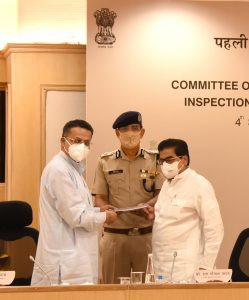 New Delhi. 04 September 2020. The First Sub-Committee of Parliament on Official Language headed by Member of Parliament (Lok Sabha) Bhartuhari Mahtab Ji, Deputy Chairman of Parliamentary Committee on Official Language inspected the Hindi records of CISF Headquarters at Vigyan Bhawan, New Delhi.
Rajesh Ranjan, Director General, CISF welcomed the MP & Deputy Chairman Bhartuhari Mahtab ji and the members of the Parliament Committee on Official Language.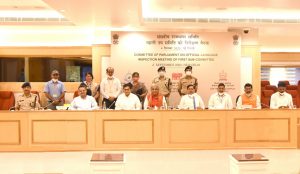 In his welcome address, Director General, CISF said that the Official Language Implementation Policy is fully followed by the CISF Headquarters and all efforts are being made at the Force Headquarters to promote and use Hindi, our Official Language. Senior Officials of the Ministry of Home Affairs and CISF were present on the occasion. The Committee mainly inspected various records related to the work done in Hindi Official Language by CISF Headquarters during the period from 01.04.2019 to 31.03.2020. During the inspection, the committee appreciated the quantum of work done in Hindi Rajbhasha by various sections of CISF Headquarters.
It is also noteworthy that in order to increase awareness among the force personnel about Hindi language, from today, 3 features have been launched namely 'Today's idea in Hindi', 'Hindi meaning of one English word' and 'a Glossary – English to Hindi' in the CISF e-office web application.