Jabalpur ,15th February 2016: General Dalbir Singh, Chief of Army Staff, presented "President's Colours ´to Corps of Signals of Indian Army at Gauri Shankar Parade Ground, Jabalpur on 15th February, 2016. Lieutenant General Balwant Singh Negi, Army Commander, Central Command was also present. Brig, Kanwar Vinod Kumar, commandant, 1 Signal Training Centre, commanded the Colour Presentation Parade.
The honour has been bestowed upon the Corps of Signals in due recognition of its meritorious service rendered to the Nation since raising. To commemorate the historic event, a  "First Day Cover", was released by the Chief of Army Staff. The COAS reviewed the parade, appreciated the efforts and advanced technologies being used by the Corps. He also acknowledged the high standard of parade conducted at 1 signal Training Centre.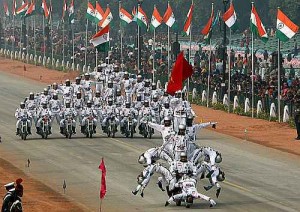 Corps of Signals is an arm of the Indian Army, which handles its military communications. It was formed on 15 February 1911 and went on to make important contributions to World War I and World War II.
After a notification was issued as a Special Army Order dated February 3, 1911, for the organisation of two signal companies, the corps was formed on February 15, 1911, when the 31st and 32nd Divisional Signal Companies, the first Signals units, were raised at Fatehgarh in present-day Uttar Pradesh. Lieutenant Colonel SH Powell, Royal Engineers, was the founder and first head of the Indian Signal Service, which later became the Indian Signal Corps. Until then, the Sappers which were part of the Indian Army Corps of Engineers that was established in 1777, were in charge of passing battlefield messages. Subsequently, the 33rd and 34th Divisional Signal Companies were raised at Ahmednagar, alongwith the nucleus of the 41st Wireless Squadron at Roorkee on March 1, 1911.
After India gained its independence in 1947, Brigadier CHI Acehurst became the first head of the Corps of Signals, after the1965 and 1971 wars, the corps underwent important expansions. The corps formally received its regimental colours on 20 February 1965 and on 15 February 1981.
It was a historic moment for Corps of signals to receive President's Colours on the occasion of its 106th raising day and 15th Reunion on 15th February 2016.