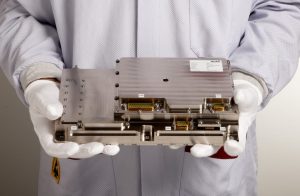 Logan, Utah. 10 August 2019. An official MoU will be signed by RUAG Space and Kubos Corporation to manufacture the new-generation of megaconstellations at Small Satellite Conference, both RUAG Space and Kubos leadership will be presented during the signing of the MoU.
The consortium will work together on multiple new lines of ready-to-fly satellite computers, these new integrated product will feature the kubos software and RUAG Space satellite computing hardware into the rapidly expanding megaconstellations and more than 150 kg markets.

Marshall Culpepper, CEO at Kubos Corporation, asserted, "The collaboration of large successful aerospace firms with innovative software companies is going to be an unstoppable trend as more large constellations are planned and launched into orbit. The underlying truth for those applications is that they need both flexible software and reliable hardware – just the same as our day to day computing needs down on Earth. KubOS is the Android of space systems. By combining it with a wide range of powerful hardware platforms, it can bring incredible value to its end-users."

An open-source, integrated flight software framework has been successfully invented by Kubos which can simply operate on an array of different hardware combinations.

"Customers have come to know and expect reliable systems from RUAG Space, but the challenge we face as an industry is producing the same reliable systems at scale and at a level that makes them affordable for a mega constellation. To accomplish this requires strategic partners, particularly in software—and visionary thinking and innovative collaborative approach—which brings us to this partnership with Kubos," commented Dr. Peter Guggenbach, CEO at RUAG Space.

Both companies are exploring innovative partnership to bring secure open source software to high-volume scalable satellite systems. The MoU is an essential opening step for KubOS and secure open source, which has been a foundation of the nanosatellite market, to the larger mini/medium size satellite enterprise. Open source software has attracted various industries, from smartphones to enterprise IT. With over 500 aerospace developers, Kubos has become largest open source movement in the space community, many of which will take part at Small Satellite Conference.