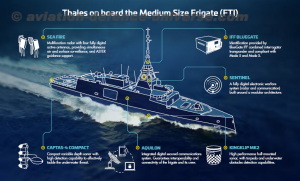 New Delhi. 17 October 2017.  The digital transformation offers the ideal opportunity for Thales to provide naval forces around the world with the modern, high-performance solutions they need to operate their communication systems simply and reliably. PARTNER-C, the new-generation communications management system from Thales, is built around an intuitive user interface that delivers significant benefits to naval communications operators using cybersecurity and Artificial Intelligence technologies. 
Co-developed with end users from a number of navies, PARTNER-C is one of the core building blocks of the AQUILON naval communication system. It is an agile, robust and scalable communications management solution that operators can rely on at every decisive moment. Due to Artificial Intelligence contribution, only relevant, actionable information is displayed at any given moment, enabling operators to concentrate on operational tasks such as establishing a secure connection to a command system. Highly automated processes help them select the most suitable equipment (transmitter, receiver, modem, antennas, etc.) for each task. The system architecture is designed to accommodate new functions such as real-time allocation of frequencies and antennas in fast-changing operational situations, or dynamic management of data streams and cybersecurity, for reliable, centralised operation of all the surface ship's internal and external communication systems. PARTNER-C is fully scalable: users can add software modules at their own pace, for example to support remote control of new radios or other devices, and incorporate the corresponding management functions in the system's user interface.
Designed to manage all the communication equipment on board the vessel and provide high-level services for users, PARTNER-C is the latest addition to the PARTNER range of communication management systems. A total of 132 surface ships and submarines are already equipped or are currently being outfitted with PARTNER systems (PARTNER v1, PARTNER v2), establishing the range as a perfect fit for the operational requirements of naval forces around the world. 
"This new-generation communications management system brings users the benefits of Thales's extensive expertise in artificial intelligence and cybersecurity. Its intuitive user interface simplifies the operators' workload, and the embedded intelligence in its software boosts their performance and improves their operational efficiency so they can make the best decisions in real time, in decisive moment." Cyril Gazzano, PARTNER Product Line Manager, Thales