Texelis is exhibiting at DSEI 2021 on stand H6-340 in the French pavilion.
Texelis will present the future of armoured vehicle mobility at DSEI 2021, with its proven MR400 mobility solution for highly strategic and mobile military protected vehicles.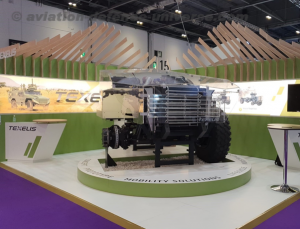 The MR400 comprises a full vehicle driveline, including axle, powerpack, suspension, steering, cooling, exhaust and electrical systems. This Texelis mobility solution delivers exceptional off-road mobility with air transportability, whilst simultaneously supporting high levels of protection and a high payload capacity.
Derived from the solution designed for the French DGA's lightweight 4×4 VBMR vehicle as part of the SCORPION programme, the MR400 is a de-risked mobility solution for customers seeking ambitious, high performance mobility for integration on military 4×4 armoured vehicles. As part of the VBMR programme, the MR400 has undergone thousands of hours of test bed and on-road trials, and is currently in production at Texelis' facility in Limoges, France, from where the company will also provide spares for the French programme for the next 30 years.
Customers looking to tackle the mobility challenges of the coming decade in partnership with Texelis will also benefit from high levels of localisation as part of domestic vehicle programmes.
The Texelis mobility solution includes technology from industrial partners Cummins, Allison Transmission, PowerLine, Michelin, KONI and Hutchinson.
"Our work on the VBMR programme has allowed us to refine our capabilities in vehicle mobility and our facility is fully equipped for a ten-year production run and 30-year supporting role for the French SCORPION programme," Jean Vandel, Managing Director at Texelis Defence, said. "Now we are bringing this expertise to the world, with a proven, reliable and modular solution that is available to test drive on the track in France.
"The growth of the urban battlefield and need for armoured vehicles to be highly protected while air transportable has driven a revolution in mobility – and Texelis is at the forefront of this innovative work. We look forward to meeting with new partners at DSEI 2021, and helping them to meet and overcome the mobility challenges of the coming decades."
A scale model of the MR400 is available to view on Texelis' stand at DSEI (H6-340), along with details of the full range of Texelis mobility solutions, and information on the new in-wheel Electric Hub Drive being developed in partnership with QinetiQ. Combining Texelis' mobility expertise and manufacturing excellence with QinetiQ's electrification capabilities, the Electric Hub Drive is a break-through technology for the military vehicle market, offering vehicle OEMs more freedom and flexibility than ever before to design the best vehicles for tomorrow's battlefield.
Texelis industrial partners:
Allison Transmission
Allison fully automatic transmissions optimise operational mobility in all its aspects, most notably acceleration and gradeability on- and off-road. The Continuous Power Technology™ solution ensures uninterrupted transmission of power to the drive wheels, smooth starting, low-end control and excellent manoeuvrability over the most difficult terrain, such as sand, mud or snow. Superior launch power and exceptional hill ability are facilitated by the design of the torque converter and planetary gears.
Cummins
Cummins Inc. has been a proud partner of Texelis since 2017. Cummins and Texelis joined forces to support a defence tender opportunity with the Cummins ISL9 375hp Euro 3. Cummins and Texelis continue to evaluate all subsystems to guarantee maximum uptime for this military vehicle. The ISL9 engine has been widely used across all markets with proven reliability and durability across the globe. The ISL9 also has a projected production release of a 540hp model through late 2022 early 2023.
Hutchinson
Hutchinson is a leader in anti-vibration systems, fluid management, sealing solutions and mobility solutions. Our innovations cover particularly demanding markets: automotive, aerospace, defence, energy, rail and industry. The Hutchinson Group is distinguished by a multi-market and multi-expertise offer. Our teams therefore design tailor-made materials and integrated solutions for each of our customers. Within HUTCHINSON SNC, the Defense and Mobility Department is responsible for the development, production and marketing of products to aid the mobility of security and military vehicles in France and abroad. It includes a large range of runflat to fit any configuration, two-piece alu. rims, mounting machines and services, and self-sealing protection for fuel tanks.
KONI
The KONI HYDRORIDE® hydro-pneumatic spring-damper units on the Serval provide the vehicle with a compact and light weight suspension. With tunable spring and damping characteristics the HYDRORIDE® units can be adapted to all variants of the vehicle, thus providing excellent on- and off-road mobility. The technology is developed and tested in-house at KONI headquarters in the Netherlands where also a new production line has been installed for the HYDRORIDE® products.
Michelin
From the very start of Texelis' defence vehicle projects, Michelin has worked together closely with the vehicle designers and engineers to guarantee the best tyre choice and configuration for the vehicles. Michelin's tyre developers were present during field testing of the vehicles to accompany the Texelis team in the definition of the tyre models to optimise both the on- and off-road mobility and the runflat performance. The combined expertise of Texelis and Michelin offers the best performance in vehicle safety, mobility and reliability.
PowerLine
The town of Steyr has a very long history in developing and manufacturing off-highway AWD trucks and PowerLine, in Steyr, is continuing this passion of manufacturing of AWD components like Transfer Cases and special transmissions. Future mobility challenges will require companies which can come up fast with new drive-line solutions where PowerLine together with Texelis will play an important role in this rapid changing industry.