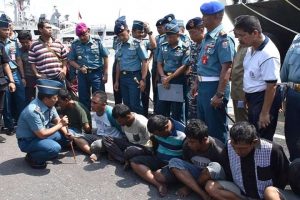 By Suresh Somu
Jakarta, Indonesia. 27 March 2020. Don't keep your regional eyes just on the serious Covid-19 as on the high seas, along the Straits of Malacca, there's an alarming rise in regional piracy.
Ships in the Singapore Strait alone were boarded by suspected robbers in 31 incidents in 2019 – a four-year high, according to a maritime information sharing centre. There were only 17 incidents from 2016 to 2018, although this peaked at 99 in 2015.
Nine of the incidents involved armed perpetrators, with crew reporting injuries in one case, said the Regional Cooperation Agreement on Combating Piracy and Armed Robbery against Ships in Asia (ReCAAP) Information Sharing Centre. In two of the cases, crew reported being tied up while two cases involved crew being threatened with a gun or knife.
Reports indicate that items ranging from a gold chain to engine spares and scrap metal were stolen in 19 of the incidents. Analysts have said there is a black market for scrap metal, with the price of materials like iron and copper increasing over the years.
Mind you, 11 actual incidents were reported in January 2020. In January 18 2020, pirates struck in the Singapore Straits. It targeted a barge pulled by a tug boat twice in five hours. While the Singapore Coast Guard craft, were dispatched to intercept the perpetrators, they evaded with scrap metal. The incident happened about 20km apart in the waters between Singapore and Batam.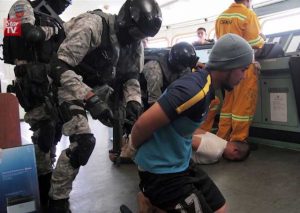 ABDUCTION
Keep an eye, too, that there was also an abduction of eight crew from a fishing trawler on 17 Jan 2020 off Lahad Datu, Sabah, Malaysia. And the Malaysian authorities recovered three of the eight crew in the vicinity of Lahad Datu, Sabah. There was also an incident reported on a tanker anchored off Port Kabil, Pulau Batam, Indonesia.
What's an eye-opener is that some of these attacks are done simultaneously within a short span of time. To foil such attacks, what's paramount is to share information and intelligence with maritime and enforcement agencies with countries protecting its territorial waters.
Singapore Defence Minister Ng Eng Hen said the tactics and modus operandi of the perpetrators remain the same and they are based and operate outside Singapore's territorial waters.
But Singapore is taking the sea piracy seriously, as much as it is fighting the ongoing corona virus. The Republic of Singapore Navy (RSN) hosted the 14th Malacca Straits Patrol Joint Coordinating Committee Meeting. It had representatives from Indonesia, Malaysia, Singapore and Thailand to discuss the recent increase in piracy incidents in the strait.
SERIOUS SEA STRATEGY
The representatives signed a revised set of standard operating procedures, pledging to strengthen information sharing and enhance mutual understanding and collaboration.
And the implementation paid out where information sharing between Singapore and Indonesia foiled the robbery attempt recently. In March 2020, the Maritime Port and Authority of Singapore's Port Operations Command Centre received a report from Liberian-flagged bulk carrier Sam Jaguar that pirates had boarded the ship in the east of Pulau Karimun Kecil, Indonesia.
Singapore littoral mission vessel and Police Coast Guard craft were dispatched and at the same time the RSN information fusion centre (IFC) shared real-time information on the incident with the Indonesian authorities. Significantly, this paved way to the apprehension of the pirates in the Indonesian waters.
The operation was carried out with two Indonesian Navy ships and helicopter to board the Sam Jaguar. Such excellent coordinated joint work between Indonesia and Singapore in terms of information sharing and intelligence led to quick operational response that resulted in keeping the territorial waters safe.
The robust co-operation among the Asean neighbours, especially Singapore, Indonesia and Malaysia, is crucial as the continued increased pressure will definitely make these perpetrators to think twice before they strike the high seas.