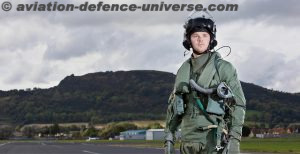 London. 07 December 2022.    'Ultimate protection for flight crews operating in cold climates.' That's the premise of global Survival Technology solutions provider Survitec's upgraded multi-platform, Cold-Weather Protection Ensemble, which debuted last month at the SAFE Association's annual symposium in Mobile, Alabama.
Based on the company's existing flight coverall, the upgrade includes a new high-insulation base layer, delivering an improved level of thermal protection to flight crews operating in extreme environmental conditions.
Designed in partnership with the industry and already used by air forces in Europe, including the UK, as a result of a recent increase in demand.
A new high-insulation base layer provides an improved level of thermal protection, designed to deliver maximum inclement weather capability whilst offering the wearer a low-bulk garment for increased comfort and mobility.
Martin Whittaker, Survitec CEO – Aerospace and Defence, said: "The design of the Cold-Weather Protection Ensemble is specific to the needs of aircrew. The high-performance fabrics and insulation provide optimum protection from snow, rain, wind and freezing temperatures whilst allowing any perspiration to evaporate quickly and comfortably.
"Winter in Europe is approaching, and we want to ensure we have the very best capability to protect aircrew, whether involved in ground logistics or combat operations", said Whittaker.
Water and windproof and manufactured using PrimaLoft Synergie high-performance insulation material, the integrated two-piece comprises a flame-retardant Gore-Tex bi-laminate fabric jacket and tri-laminate trousers with adjustable braces and additional lower back insulation.
Available in 18 sizes, the ensemble is designed for all aircraft types, including ejection seat-equipped front line and training, rotary wing and transport. Experience gained during the development of cold weather equipment for the Eurofighter Typhoon programme has been leveraged during the ensemble development.
Nick Mulhall, Business Development Director, Survitec, furthered: "Our high-performance functional garments protect pilots and aircrew worldwide in all environmental conditions on all aircraft types. The Cold Weather Protection Ensemble augments our portfolio giving additional options to provide appropriate levels of protection, ensuring mission flexibility wherever in the world aircrew are operating. We are ready to support military aviators and ground crews to ensure they are protected in all weathers."