New research to expand accessibility and effectiveness of haptics immersive training environments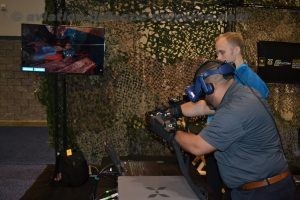 Orlando, FL. 02 March 2020. Armstrong, ECS CEO/President, announced that Engineering & Computer Simulations (ECS) has been awarded a Broad Agency Announcement (BAA) technical project with the Simulation and Training Technology Center (STTC), a division of the Combat Capabilities Development Command (CCDC) Army Research Laboratory's (ARL) Human Research and Engineering (HRED) Directorate. The objective of this five-year program is to analyze, develop, and evaluate the use of haptics technologies in simulated immersive training environments.
Armstrong says, "We are proud to continue our longstanding relationship with STTC which goes back almost 20 years. The use of haptics technology in mixed reality environments directly addresses several challenges in the Department of Defense (DoD) medical training. State-of-the-art training systems generally rely on physical hardware, room size simulators, instrumented manikins, and other specialized props to train users on physical objects. These systems are typically expensive and require skilled operators and a high level of maintenance."
The ECS team, led by Paul Cummings, Vice President of Innovation and Technology and Shane Taber, Vice President of Operations, Orlando, will research recent advances in haptics, force feedback, tracking, and high-fidelity touch simulations to identify where particular technologies can enhance learning, improve skill retention, and increase training effectiveness.
The resulting research will be used to develop training use cases in virtual environments. The analysis will provide new information on the value of haptics and extended reality (XR) systems in medical and general synthetic training environments (STE). Topics include: haptics device comparison, STE Soldier/Squad Virtual Trainer (S/SVT) mixed reality (MR) "Holodeck" integration, virtual reality (VR)/augmented reality (AR) suit and biometrics integration, STE collaborative MR scenario, new haptics surgical procedures, medical mannequin scenario, haptics for tactical evacuation (TACEVAC), highly infectious disease scenarios, and dental AR with haptics usability review and evaluation.
Cummings explains, "Significant opportunities exist to supplement these trainers with AR-or MR-based immersive training experiences that can also incorporate tangible, physical touch, through props, haptics, or a combination of both. By supplementing the existing systems, the Army could potentially improve student throughput, better prepare learners for capstone training events, and reduce maintenance or replacement costs for larger systems."
Taber adds, "We are looking forward to working with the U.S. Army STTC to provide medical teams with the tools they need to protect our Soldiers. This type of work will advance our innovative, high-fidelity virtual reality and haptics integration by blending state-of-the-art hardware and software solutions. It will also advance the body of research related to human performance and training effectiveness combining multiple mixed reality and haptics technology systems."