Paris. 07 June 2019 Stéphane Dubois was named Safran Executive Vice President,Human Resources on June 5. He replaces Jean-Luc Bérard, who was at the same time appointed Special Advisor to the Chief Executive Officer, in charge of corporate social responsibility (CSR) policy. Stéphane Dubois is also a member of the Group's Executive Committee.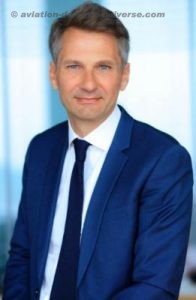 Stéphane Dubois was head of human resources in France, then in South Africa for Pechiney Electrométallurgie from 1994 to 2001. He was named Vice President, Talent Management for the Pechiney group in 2004, then continued his career at Alcan-Pechiney, where he was named Vice President, Human Resources, Environment, Health and Safety at Alcan Packaging in 2006, first for Europe, then for the Group.
He joined Alstom in 2010 to manage the human resources impact of the planned acquisition of Areva T&D by the Alstom-Schneider Electric consortium.
In 2013, Stéphane Dubois was named Vice President, Human Resources for International Financial Services and Networks at Société Générale, prior to joining the retail banking unit in France in 2015, tasked with implementing its transformation plan.
Stéphane Dubois, 52, holds an advanced graduate degree in human resources from CELSA (1994) and a graduate degree in labor law from the Sorbonne (1992).