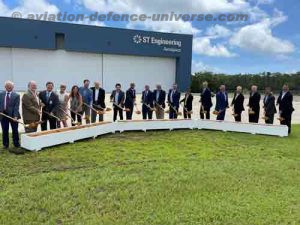 Dallas, U.S. 28 April 2022. The Commercial Aerospace business of ST Engineering, Mobile Aerospace Engineering and United Airlines, Inc (United) signed a Memorandum of Understanding (MOU) today at the MRO Americas 2022 conference in Dallas, Texas, U.S., that aims to have ST Engineering see part of United's long-term airframe heavy maintenance needs move to the Pensacola International Airport in Florida, U.S.
ST Engineering currently supports United's Airbus A320 Family out of its facility in Mobile, Alabama. Under the MOU, ST Engineering will extend its heavy maintenance support to the airline by servicing additional narrowbody aircraft at the airframe Maintenance, Repair & Overhaul (MRO) complex that ST Engineering is constructing at the Pensacola International Airport.
The MRO complex is an expansion to an existing two-bay widebody hangar facility currently operated by ST Engineering. Estimated to be completed by end 2024, the expansion will add three large state-of-the-art hangars and associated support shops, and around 1.5 million manhours to ST Engineering's annual capacity in Pensacola.
Jeffrey Lam, President of Commercial Aerospace at ST Engineering, said, "We are committed to the long-term and growth needs of our customers in the U.S. In expanding the current partnership arrangement with United under this MOU, we look forward to growing our support for them at our expanded MRO complex in Pensacola when it is completed."
Besides Pensacola and Mobile, ST Engineering also operates other MRO facilities in the U.S. including San Antonio, Texas and Middle River, Maryland, and offers aircraft engine washes through EcoServices in Wethersfield, Connecticut.