By JK Verma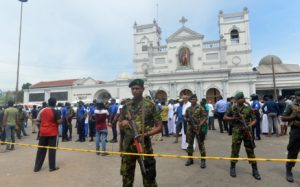 New Delhi. 01 May 2019. Sri Lanka, which was peaceful from last ten years, suffered one of the deadliest terrorist attacks on April 21 which was Easter Sunday. The Islamic State (IS) took the responsibility of serial bomb blasts in churches and hotels in which more than 300 persons were killed and about 500 were injured. IS the terror outfit declared on April 23 that it took the revenge from the "Crusader Coalition" which vanquished the caliphate in Iraq and Syria. Most of the killed persons were Sri Lankans but about 40 foreigners including American, Australian, British, Chinese, Danish, Dutch and Indians were also lost lives. The Amaq news agency of IS showed video of suicide bombers who were swearing allegiance to Abu Bakr al Baghdadi the supreme commander of IS. The attack is significant as it will be the first terrorist attack after the self-styled caliphate was crumbled in Baghuz town of Syria about a month back.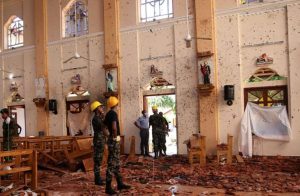 When the last bastion of IS had fallen in Syria the coalition generals made it clear that although IS lost all territories, but it is not finished, and it has links and followers all over the world particularly in Afghanistan, Pakistan, Libya, the Sinai, Philippines etc. They also made it clear that nationals of several countries who were fighting from the side of IS would be returning back to their homelands. These returnees are hardcore Islamic terrorists and will spread the IS ideology. In 2016 more than 32 Sri Lankan nationals who were from well educated and wealthy families had gone to Syria and joined IS. Sri Lankan Prime Minister Ranil Wickremesinghe accepted that few Sri Lankans must have returned from Syria. The Easter Sunday bombing indicates the involvement of battle-hardened terrorists as a little-known terrorist outfit had planned simultaneous attacks on three churches and three hotels with precision and also used high-grade explosives.
Sri Lankan security officials mentioned that two Islamic terrorist organisations namely National Thowheeth Jamaath and Jammiyathul Millathu Ibrahim were responsible for Easter Sunday suicide bombings. It was mentioned that the April 21 attacks were the revenge of the attack on two mosques in Christchurch, New Zealand in which about 50 persons were killed.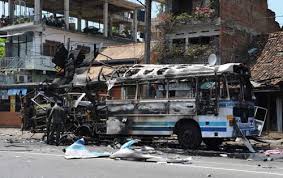 The local Sri Lankan Islamic radical organisations which were banned by Sri Lankan administration had links with international extremist Islamic outfits. The radical international Islamic outfits are enhancing their influence in several countries of Asia especially Maldives, Philippine, Bangladesh, Afghanistan, Sri Lanka & India. Pakistan is already radicalised fully and involved in carrying out terrorist activities in several countries especially in India and Afghanistan. At present Asia has become the hotbed of Islamic terrorism as large population of Muslims reside in this area and several terrorist outfits have safe sanctuaries. Countries like Pakistan have not only created few terrorist outfits but continuously assist them. The Sunni terrorist organisations of Wahhabi faith get assistance from few middle east countries while Shia outfits were helped by Shia dominant countries.
The Easter Sunday bomb blasts were chalked out methodically, targeting Churches which may cause communal riots as Christian population in Sri Lanka is about seven percent while Muslim population is about ten percent. Secondly blasts in hotels were with ulterior motive of harming the flourishing tourist industry of the country. Tourists of several countries were killed in the bomb blasts and it will convey a negative message to the prospective tourists.
Indian intelligence agencies gave prior information to Maithripala Sirisena, President of Sri Lanka about the terrorist attack and also identified that Zahran Hashmi with his terrorist outfit is planning attacks on catholic churches and the Indian High Commission. As there was stringent security at Indian High Commission the terrorists selected hotels for the attack. However, Sri Lankan Government had not taken the requisite action due to the infighting between President and Prime Minister Ranil Wickremesinghe.
Security experts mention that Sri Lankan authorities were quite lax and took no worthwhile action, although 100 kilograms of military-grade explosives, detonators, arms and ammunition were recovered from Wanathawilluwa in Sri Lanka sometime back. The place where recovery was made considered to be the training ground of Islamic terrorists who were planning to blast Buddhist temples and other religious places. Several Islamic centres have mushroomed in Sri Lanka and these centres in the name of spreading Islamic teachings are producing Islamic terrorists.
Nonetheless after Easter bombings Sri Lankan government had taken few stern measures, about 10000 security personnel were deputed to raid various hideouts of Islamic terrorists, announced emergency, dusk-to-dawn curfew was imposed, schools and colleges were closed for about a week and internet services were discontinued. In one search-out Rilwan Hashim, Zainee Hashim and their father along with twelve more were killed when terrorists opened fire against the security forces. The security forces have arrested more than 100 persons who had links with the banned terrorist organisations. Sri Lankan authorities suspect that there may be more suicide bombers in the country.
Indian security agencies are rightly concerned about increasing Islamic extremism in the region especially in the friendly countries including Bangladesh, Maldives, Afghanistan and Sri Lanka. The Indian terrorists can get assistance from the Islamic terrorists based in these countries. The ominous ISI can instigate and provide assistance to Jihadists organisations of other countries to carryout terrorist activities in India. ISI sponsored Lashker-e-Toiba (L-e-T) can also plan and carryout terrorist attacks in India.
Tamil Nadu Thowheed Jamaat (TNTJ) which operates legally in several countries including India, United States, Australia and United Kingdom has also a branch in Sri Lanka. The outfit is involved in social causes and also preaches the principals of Islam.
Indian security agencies have to be careful as the Easter bombings were the handiwork of National Thowheeth Jamaath (NTJ). The authorities should investigate whether there is a link between NTJ and Tamil Nadu Thowheed Jamath (TNTJ). It is also reported that the TNFJ is receiving financial assistance from Wahhabi countries of Middle East.
In 2016, the ISI sponsored terrorists attacked a café in Bangladesh and slaughtered 20 persons mostly foreigners. Security forces killed six terrorist while one was arrested. All the attackers were educated and were from well-to- do families. Islamic State took the responsibility of this heinous killings. Same way NTJ has links with ISI and its protégé L-e-T and the terrorists were not only educated but from wealthy families. The Sri Lankan authorities have arrested nine Pakistan nationals in connection of Easter Sunday bomb blasts. Besides L-e-T a charitable institution Idara Khidmat e Khalq financed by L-e-T is also involved in radicalising Sri Lankan Muslims. Sometimes back a Pakistani diplomat based in Colombo was conspiring terrorist attack on US and Israeli diplomatic mission in New Delhi.
Although Sri Lanka failed to act on Indian actionable intelligence, but government took stringent measures after the dastardly attack. Indian security forces should also be prepared to adopt stringent measures in case of terrorist attacks without caring about the resistance from human right activists. NTJ leader Zaharan Hashim was inspired by Zakir Naik an Indian preacher who took shelter abroad. Indian security forces should monitor the activities of TNTJ.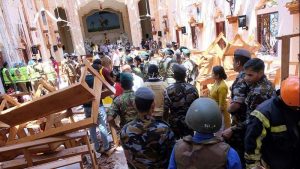 The international terrorist organisations are financing and training the local terrorist outfits and the local persons are carrying out terrorist activities. Hence it is essential for the security agencies of different countries to co-ordinate and share the actionable-intelligence. It is good that Sri Lankan authorities are helped by the security forces of US. The Sri Lankan authorities have asked Pakistan to render assistance in investigation. It will be good because few Pakistanis are also apprehended by Sri Lankan authorities. However, the investigating authorities must be careful as Pakistan's ISI has dubious distinction of assisting diverse terrorist outfits.
It is also encouraging that Indian authorities have alerted Indian Coast Guard to be careful and enhance the vigilance on maritime borders. Terrorists from Sri Lanka may escape to India through sea-route to avoid arrest. Terrorists can use sea-routes for smuggling of terrorists, weapons and explosives.
Indian security agencies are monitoring the whereabouts of more than 50 Indians who had gone to Syria and now hiding in Afghanistan. These Indian absconders are trying to recruit disenchanted Muslim youths through social media and internet. Hence security agencies should be careful so that they do not succeed in enrolling new members as the new members would be utilised in carrying out terrorist activities.
The National Investigation Agency (NIA) had arrested more than 100 Islamic State sympathisers and about 25 cases are also registered against cases related to Islamic State.
Indian security agencies should try to stop the spread of Wahhabism and Salafism as they are extreme form of Islam. India should stop the mushrooming of Madrassas which teach and preach extremism. It is essential that scientific education and work oriented courses are included in the syllabus of Madrassas so the students when they pass out from these religious institutions, they do not remain unemployed. The danger from Islamic State is real hence Indian security forces should chalk out a detailed plan to handle the menace of Islamic State.
(Jai Kumar Verma is a Delhi-based strategic analyst and member of United Services Institute of India and Institute for Defence Studies and Analyses. The views in the article are solely the author's. He can be contacted at editor.adu@gmail.com)All Pics Courtesy : Mathrubhoomi & Sri Lankan Government